Apple has redesigned its website many times over the past decade but one thing has remained largely unchanged — its global gateway strategy.
Here's a screen shot of the global gateway menu from back in 2010: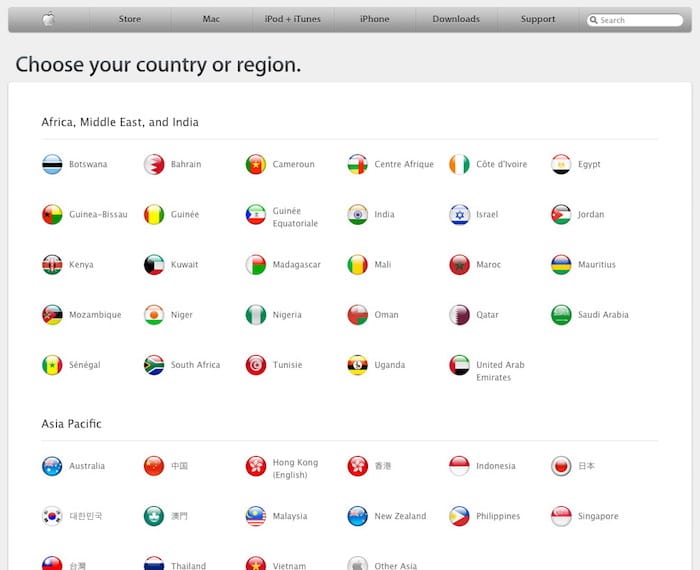 And here it is today: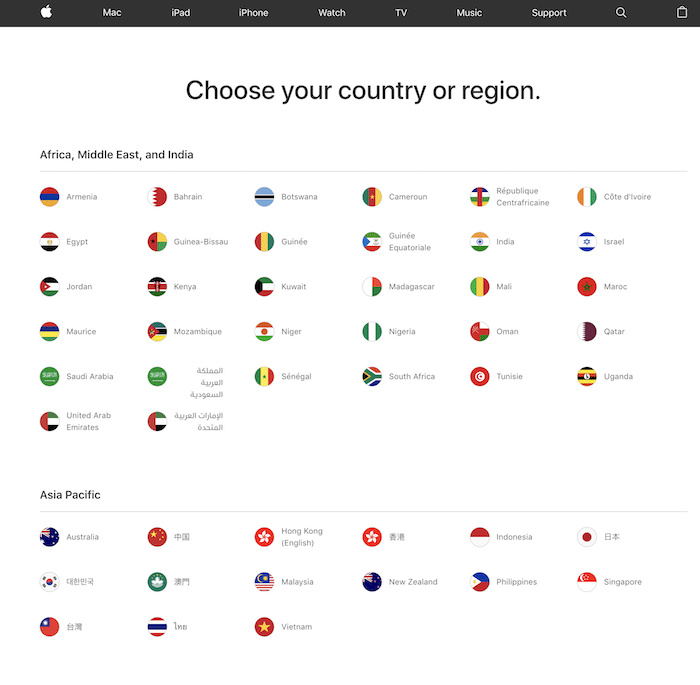 But over the past few days Apple did something I've been waiting for them to do for some time — begin using geolocation.
Here's how it works…
If you're in the US and you try visiting the home page of, say, Apple France, at www.apple.fr, you see this message above the top menu: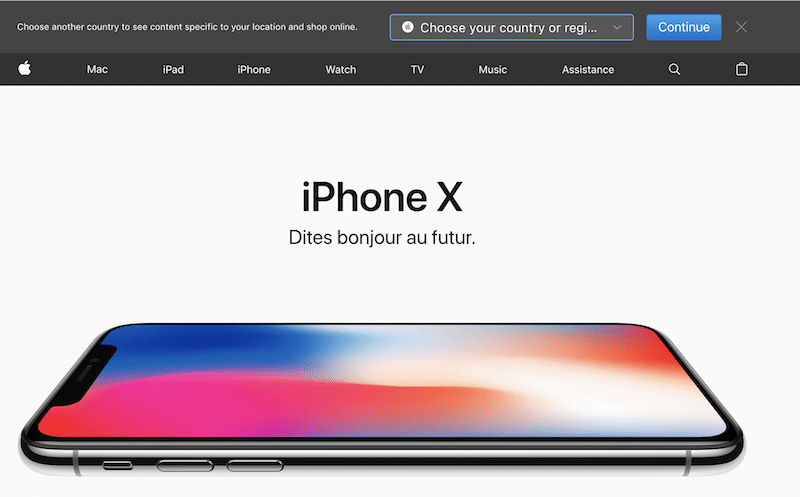 The message gives you a shortcut back to the US (.com) website.
And if you're in Japan and you visit www.apple.com, you see this message:

In this case, the user can go to the Japan home page with one click.
This is a step forward for Apple and I'm happy to see it.
But there are still flaws with the execution which could use improvement.
Beginning with the flags.
I don't know why Apple clings to flags with such passion. I do believe Apple will drop flags eventually and I'm hoping the move towards geolocation portends bigger and better changes to come. Flags are completely unnecessary for this geo-header to be effective. Also, if you wish to select a different locale you will be bumped back to the array of flags on the global gateway menu. As a general rule, flags should not be used for navigational purposes.
Now let's examine the message itself: Choose another country to see content specific to your location and shop online. 
The first issue is the absence of "or region" in this sentence. The intention here is not to be verbose but to help Apple avoid any geopolitical issues, particularly given the recent issues that American multinationals have been having with China. Better yet, perhaps the text can be rewritten so "or region" isn't even necessary. How about asking if the visitor would like to visit a more local website.
Finally, the mixture of pull-down menu with the "Continue" button is a bit cumbersome. Since the pull-down menu lists only two options I'm confident there is a better UI that would save the visitor a click.
Issues aside, I am happy to see Apple moving ahead with geolocation. I can imagine this was not an easy decision. After all, Apple is very sensitive to user privacy and this type of implementation will naturally lead some visitors to wonder how Apple knows where they are. But this is not an invasion of privacy; this is a step towards providing a better experience.
I also believe this change is a sign of a larger shift in website strategy, a more decentralized model, which I will be talking about later this year.
PS:  To learn more about global gateway best practices, check out the 2018 Web Globalization Report Card and The Art of the Global Gateway.