We studied 12 enterprise technology websites for the 2013 Web Globalization Report Card.
The Web Globalization Report Card is an annual benchmark of how effectively companies internationalize and localize their websites and applications for the world.
Out of those 12 companies, Cisco Systems emerged on top.
Cisco emerged on top for three main reasons.
First, it leads the category in languages with 40 (not counting English), followed by IBM and Xerox.
Second, as shown below, the website is globally consistent.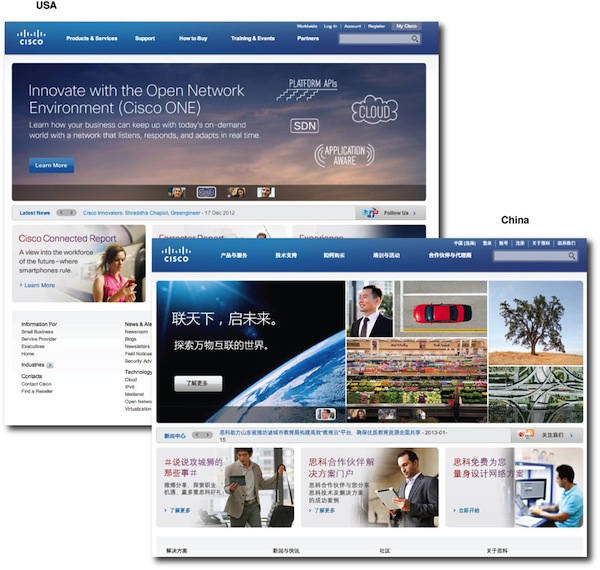 Cisco supports a global template that is flexible enough to support local content and promotions.
Third, Cisco leads the sector in its support for locally relevant social networks.
Shown below is the template used on the .com website: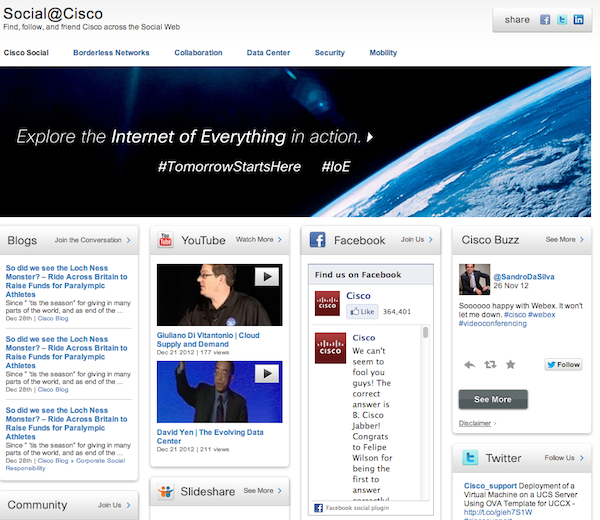 And here is the template used on South Korean website: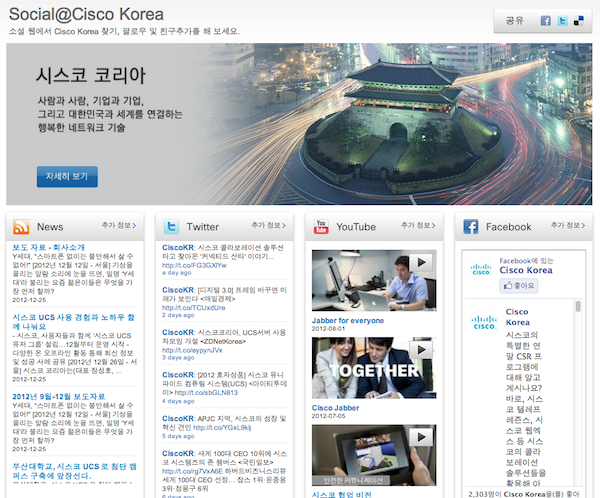 Note how the template supports the insertion of locally specific feeds.
Many companies still cling to the idea that they can support just one English-language Twitter or Facebook page for the world.
But all this feed does is reach English speakers around the world. If you're really serious about a given country you need to fully support its languages. And Cisco is well ahead of most companies in its support for local-language social networks and videos.
Regarding global navigation, there is still room for improvement. The gateway relies on a pop-up window, shown here: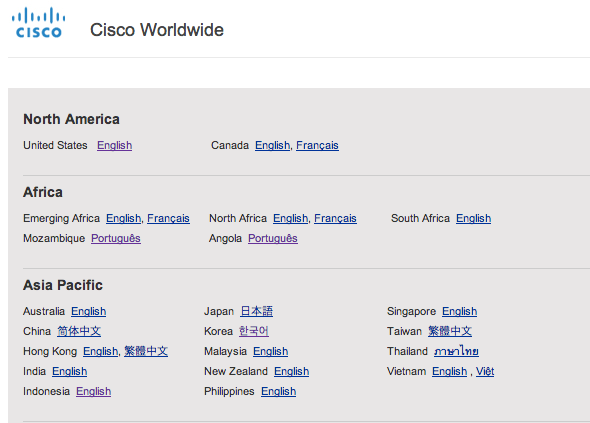 I'd prefer to see Cisco use a globe icon to highlight the gateway in the header (instead of simply using a "Worldwide" link). And the gateway itself could be better executed.
That said, Cisco is by far the leader in the global enterprise technology category — and it is also a top 5 website.
Here are the 12 enterprise technology websites included in the 2013 Web Globalization Report Card:
Autodesk
Cisco Systems
Dolby
EMC
IBM
Intel
NetApp
Oracle
Renesas
SAP
Texas Instruments
Xerox
Read more in the 2013 Web Globalization Report Card.
Also included with the Report Card is the Enterprise Technology Website report.