The latest data from IDC show the sharpest decline in PC sales on record. From the release:
"Although the reduction in shipments was not a surprise, the magnitude of the contraction is both surprising and worrisome," said David Daoud, IDC Research Director, Personal Computing. "The industry is going through a critical crossroads, and strategic choices will have to be made as to how to compete with the proliferation of alternative devices and remain relevant to the consumer."
So is it safe to say we are not longer "entering" the post-PC era and are now living in it?
I would say so, with a caveat.
As global transformations go, this one has been highly uneven.
The fact is, there are many people in the US who don't own a mobile phone or a tablet. For these folks, the post-PC era has not yet arrived.
And if you look outside the US, you might say we've been living in the post-PC era for quite some time. Or, to be more accurate, a non-PC era.
That is, many emerging markets leapfrogged PCs altogether (from the consumer's perspective) and have been mobile-centric all along.
Case in point is this chart of PC vs. mobile Internet usage in India, courtesy of KPCB and StatCounter.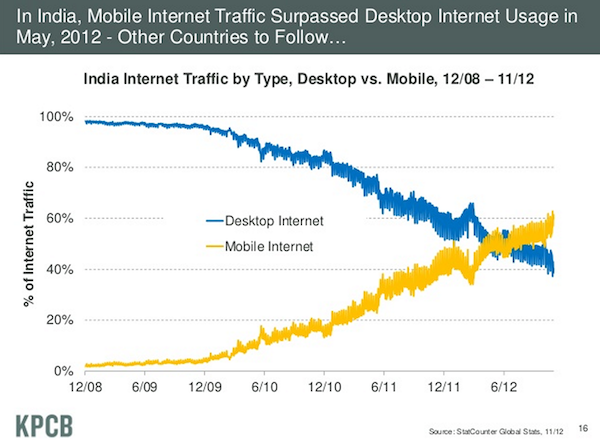 Judging by this chart you could argue that India has been "post-PC" since 2011.
Last year, I updated the Report Card methodology to factor in the globalization of mobile websites and mobile apps. This year, I've given additional weight to companies that treat mobile on par with PC in regards to globalization investment, which is a key factor why Hotels.com performed so well and why Google retained the top spot.
Needless to say, these are challenging times for web teams that must support a dizzying array of devices and screen sizes.
But this is also an exciting time. The Internet is, for millions of people, more within reach than ever before.