Stripe processed more than $640 billion last year on behalf of millions of Internet-enabled businesses. And while this number is huge, the founders of Stripe, in a recent letter to employees and customers, emphasized that we're still in the early days of global ecommerce.
Specifically, they noted that "online spending was only 12% of global spend in 2021."
Stripe has been gradually taking its payment platform global. You can see the Japanese home page of its website above and, below, the global gateway. Ideally, this gateway should be located in the header, but at least the languages are presented in their relevant scripts: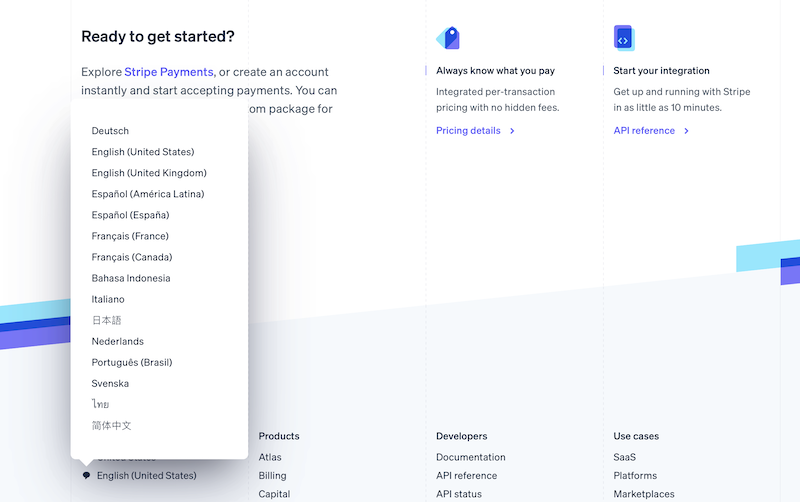 I wanted to share a few insights from their customer update, particularly related to global ecommerce:
It's not widely known that the majority of new businesses joining Stripe last year came from outside the United States.
Between 2019 and 2021, cross-border payment volumes have at least doubled in every region in which Stripe operates.
On average, businesses from Austria, Belgium, Germany, the Netherlands, and Poland have increased their sales from EU customers by over 40% after accepting popular European payment methods (such as Sofort, iDEAL, and Bancontact) and reduced transaction costs by 40 basis points.
If you don't recognize payment methods such as iDEAL or Interac or UnionPay, don't worry. That's the value of relying on a global payments platform. That said, it is wise to be aware of what payments platforms customers prefer in a given market, as you can promote your support for these methods on your website.
I've been in the web globalization field for many years but I still have to remind myself when reading highlights such as these that, yes, we are still in the early days.