For the 2020 Web Globalization Report Card, we benchmarked the following 8 financial services websites:
Allianz
American Express
Axa
Citibank
HSBC
Mastercard
Visa
Western Union
Financial services, which has long lagged behind other sectors in global reach, appears to be finally investing in expanding their global reach, perhaps driven by the rise in "fintech" investments and the rise of startups like Robinhood and Kabbage.
Visa claimed the top spot from American Express this year after expanding its linguistic reach and deploying a new and improved global design.
The website that made the greatest strides over the past year is Mastercard, which added an impressive six new languages.
Here are notes on two other websites that made changes over the past year…
Visa
Visa is now the language leader in this category, having most recently added support for three more languages. Shown below are the home pages for Spain and Latvia: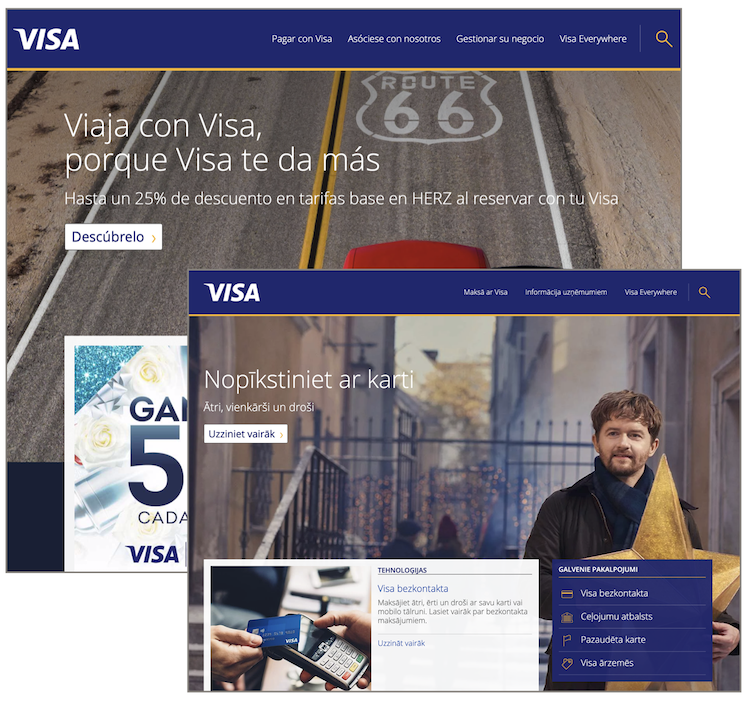 As you can see, Visa smartly relies on a global template, which supports global consistency along with local flexibility. Visa still needs to improve its global gateway, which is relegated to the footer.
Mastercard
Mastercard, like Visa, also supports more than 40 languages, placing it in rare company. Mastercard also supports a global template.
It's also worth highlighting the way some sample cards feature localized names, as with Germany: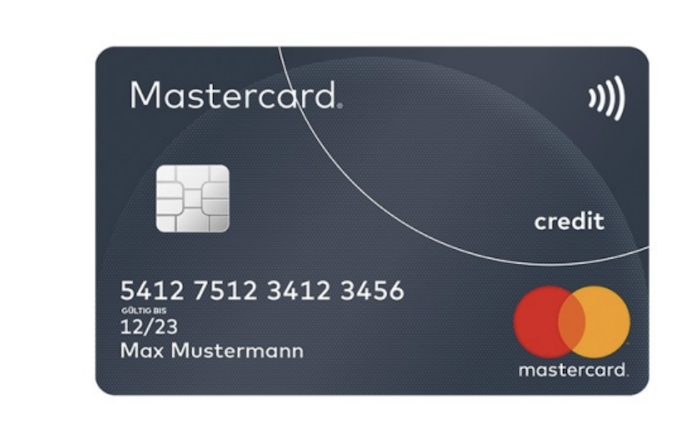 "Max Mustermann" is the German equivalent of "John Doe."
These details matter!
American Express
American Express made a relatively minor but important change over the past year — an upgrade to its global gateway web page. Shown below are the before (left) and after pages.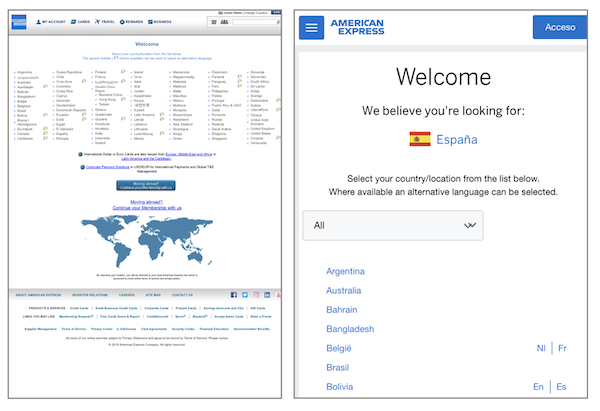 Note that we recommend that AmEx drop the flag icons.
Learn more…
We devote 11 pages to financial website profiles. To learn more, check out the 2020 Web Globalization Report Card as well as the accompanying report: 2020 Web Globalization Best Practices & Emerging Trends.