If you don't know what your mobile app weighs (in kilobytes), then it's safe to say your emerging market strategy could use some tweaking.
That's not to be harsh, but to face the simple fact that mobile users in emerging markets (and even many developed markets) are quite sensitive to data usage. And for good reason.
Late last year I wrote a post about the Internet's obesity crisis. A key takeaway graphic from the 2018 Web Globalization Report Card illustrates the extent to which websites have ballooned over the past decade: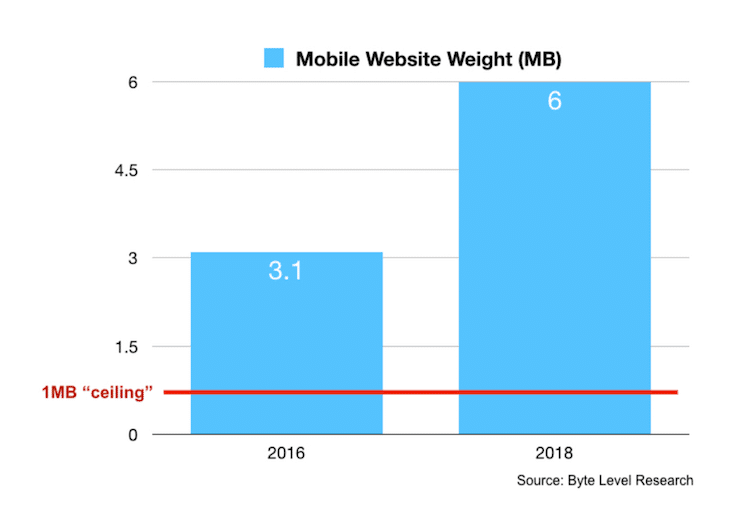 Mobile apps have also suffered from a serious case of progressive bloat.
Consider that 50 megabyte wireless plan will cost a Brazilian more than 30 hours of minimum-wage work to afford. And let's suppose your mobile app weighs 80 MB, which is what Instagram comes in at on iOS. Do you really want your customers to blow through their data plans simply because you did not have a weight limit when you began creating your app for emerging markets?
It's not uncommon for users in markets where wireless costs are expensive to switch their phones off whenever possible. And seek out free wifi networks.
And it's also no surprise that Instagram, following in Facebook's well-worn path of world domination, has launched a "lite" app.
Instagram Lite is intended for developing markets and comes in at a 573 kilobytes, compared to the more than 80 megabytes of the iOS version. This follows the success of Facebook Lite app — also weighing in under 1MB.
Uber also now has a lite app, which is comparatively still overweight, at 3MB. The app was designed in India and, like the Facebook apps, is designed for Android.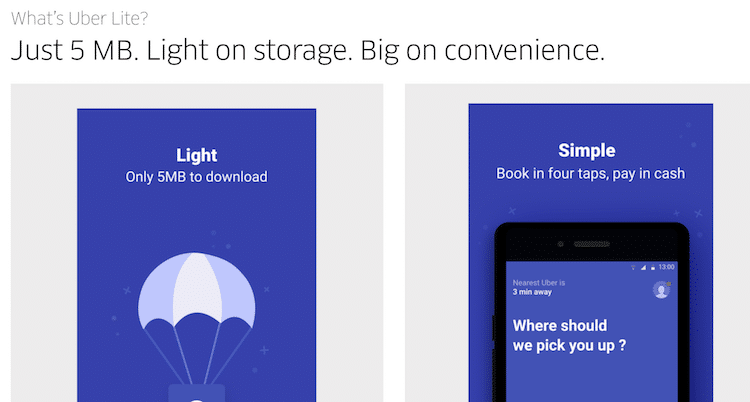 Android is key here because it is the dominant OS of emerging markets and slower wireless networks. It's important to stress that designing a lightweight app is step one. Equally important is helping users make the most of their limited (and often expensive) wireless connections. That's why maps on Uber Lite are deactivated by default.
For the 2018 Web Globalization Report Card, website weight is one of the many metrics used when benchmarking websites. Which website comes in lightest overall? Wikipedia.
One reason for this — not just a strict focus on text and limited bells and whistles. But also no tracking codes. And no ads.
Learn more about the Report Card.