Nike has a brand new website and they've made a few navigational changes along the way.
For starters, it appears that Nike is now using geolocation to detect the location of the user's browser.
This means Nike is no longer using a default global gateway landing page, which is a good thing.
The bad thing is that the global gateway menu link has been buried at the bottom of a very long home page, right below the contact into: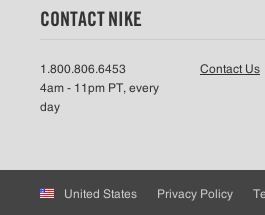 If you click the link you'll be taken to the "language tunnel" — note the URL: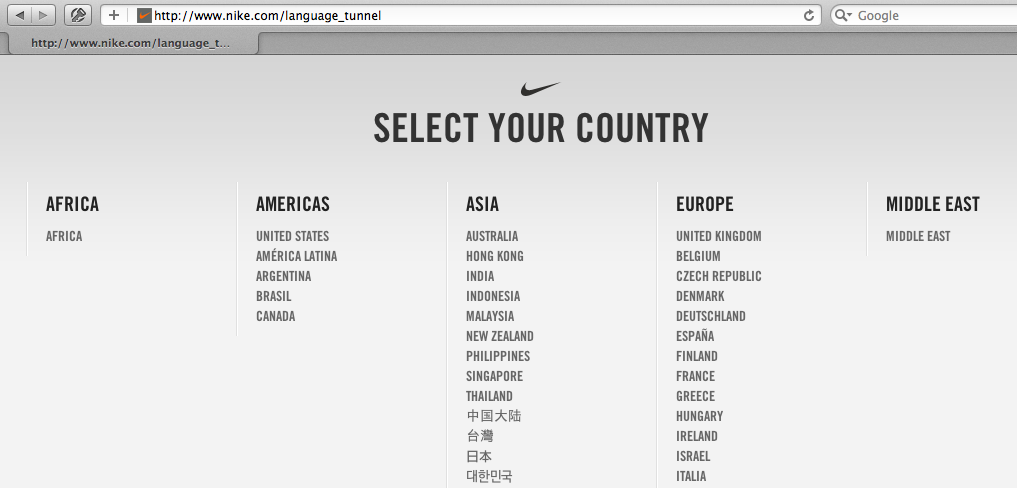 I've never heard of the gateway page referred to as a tunnel, but in some respects it is one.
And given how Nike has buried the gateway link, the tunnel metaphor applies nicely (I'm kidding, of course; I never recommend burying the gateway link).
In fact, because Nike now uses geolocation it's particularly important to make the gateway easy to find. Because now you're performing some behind-the-scenes magic that users might want to override.
As for the global gateway menu itself, it is cleanly designed and extensible, though placing the US and UK at the top of the lists shows an unfortunate cultural bias.