How's this for a visibly engaging global gateway: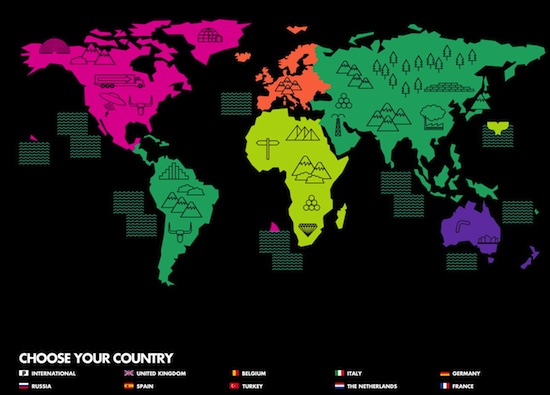 It's the landing page for Protest Boardwear — a Netherlands-based clothing outfit.
Unfortunately, the map itself isn't clickable, which violates a cardinal rule of global gateways. If you display a map on your web site, expect people to click on it. It's just what people do. In this case, we're expected to click on the flags in the footer of the page.
Also interesting: The company makes prominent use the EU domain name: www.protest.eu. There's been much talk about how .EU has failed as a domain. I don't agree. The .EU domain is five years old and has more than 3 million registrations. Based purely on registrations, it is one of the 10 most popular domains ever. But based on companies hosting and promoting the .EU domain, it has been far less successful, which is where I believe the criticism stems from. But I still wouldn't call it a failure. The domain provides a unique address for pan-European sites, and it can be quite valuable for companies that aren't yet hosting sites for all members of the European Union. While I don't view .EU become more important than a .DE or .FR, it does have a role to play for companies expanding across Europe.
For more on global gateways, check out The Art of the Global Gateway.