I'm a little amazed by all the press that the Google Translate app for iPhone is getting today.
From The Wall Street Journal to the LA Times, this app is getting noticed.
And this app doesn't even include the "Conversation Mode" feature that is currently included in Google Translate for Android app. It will be interesting to see how quickly Conversation Mode makes it into the iPhone given Google's escalating mobile battle with Apple.
I checked the iTunes store a moment ago to see that the app is ranked at #16 in the Free category. Not bad!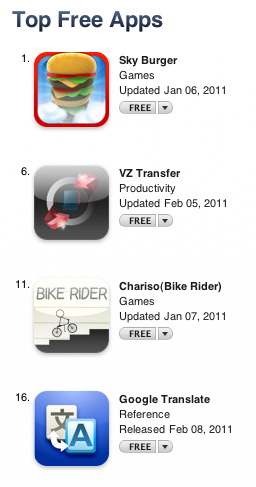 Now, can it beat the mighty Sky Burger app for the number one spot?
I think it can.
PS: The Google Translate app supports 30 or so languages, which means its one of the most-localized apps on the iPhone (if not THE most localized).
UPDATE: One day later and, yes, the Sky Burger app has been unseated by Google Translate!