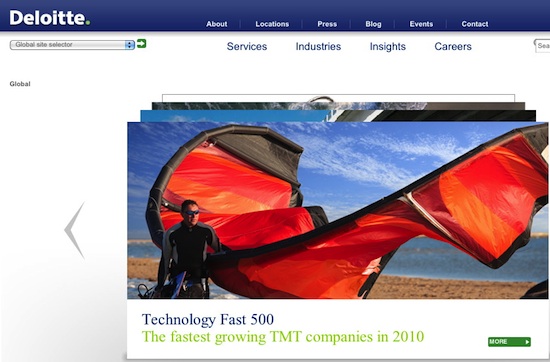 We included nine professional services websites in the 2011 Web Globalization Report Card.
The Web Globalization Report Card is an annual benchmark of how effectively companies internationalize and localize their websites and applications for the world.
Out of those nine companies, Deloitte Touche Tohmatsu emerged on top. Deloitte was the best professional services firm last year as well and, though its lead has narrowed over the past year, it still emerged on top.
Deloitte's support for 34 languages is impressive — equaled only by KPMG and PricewaterhouseCoopers.
Deloitte is a decentralized company, which benefits local content creation. The days of exclusively creating content centrally and then localizing it for the world are coming to an end; Deloitte is already well positioned in this regard.
I also want to highlight KPMG, which was the big gainer in this category overall. It has done an above-average job of supporting local-market Twitter feeds, such as @KPMG_DE and @KPMG_Talento, In 2010, KPMG ranked 111th overall; this year, it ranks 45th. Deloitte comes in at 20th overall (out of 250 sites). Perhaps next year we'll see a closer race between these two web sites.
Here are the nine professional services web sites included in the 2011 Web Globalization Report Card:
Bearing Point
Capgemini
Deloitte Touche Tohmatsu
Ernst & Young
Jones Day
KPMG
Manpower
McKinsey & Co
PricewaterhouseCoopers
How did the law firms do overall? Not well, I'm afraid. Law firms may be increasingly global, but their web sites have a long ways to go yet.