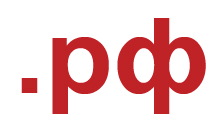 About a year ago, the NY Times ran an article with the headline: Russians Wary of Cyrillic Web Domains.
As someone who has long been bullish on the future of internationalized domain names (IDNs), I caught a fair amount of grief once this story broke.
So when I see this evening that 460,000 Cyrillic domains (.рф) have been registered in the first five days, I feel somewhat vindicated.
Somewhat, because I believe more than half of these registrations are from squatters. Maybe as many as 75%.
Still, even if we assume 350,000 registrations will just sit there awaiting a higher bid, that would leave another 100,000 destined to be put into use sooner than later. And that alone is a respectable number. Keep in mind that there are only 3 million .ru domains — in all — registered.
Could it be that Russians are excited about Cyrillic domains?
President Mednevedev has his domain working: президент.рф.
As does Russia's largest mobile carrier: МТС.рф.
What do you think?