Google marches ahead with its machine translation engine, adding Turkish, Thai, Hungarian, Estonian, Albanian, Maltese, and Galician.
This time last year, Google supported a mere 13 languages, which was in itself not bad.
But I particularly like the minor tweaks made to the site's interface. As shown below, you can now click on your language to make it one half of a language pair — a welcome alternative to the pull-down menu, which continues to grow.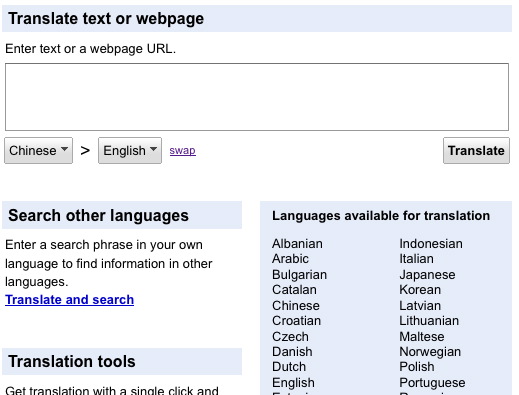 What I would like to see — and I suspect is less than a year away — is the ability to simply enter a URL and have Google auto-translate that Web site into your language without you having to specify your language. Google should already know this based on your locale setting — or at least let you set that preference ahead of time.
Google Translate can auto-detect the language for you right now — but you have to ask it to do that. Perhaps the processing overhead is such that Google doesn't want to turn on this feature by default.
So, will Google support 70 or so languages a year from now? I doubt it, given the current economic climate. As Google notes on its blog, these 41 languages already address 98% of all Internet users. I assume that Google will focus less on language expansion and more on integrating Google Translate into its products as well as improving the UI.