Square has been slowly but steadily increasing its global reach, with support for 7 countries and four languages, including Japanese, French and even Catalan (in Spain).

But on September 13th, Square announced web localization for a market that has nothing to do with international expansion and everything to do with domestic (US) expansion:
Today, Square announced that its entire ecosystem of more than 35 products and services is now available in Spanish to sellers in the United States. The more than 4.65 million Hispanic-owned businesses in the United States will now be able to use Square's end-to-end business solutions in either English or Spanish, including key products like Square Banking to unlock access to financial services and Square for Restaurants to enable seamless, bilingual communication between front- and back-of-house staff.
This is great to see — but I do wish Square could raise the profile of its global gateway which, in return, would raise the profile of its localization efforts.
Currently the global gateway is buried in the footer: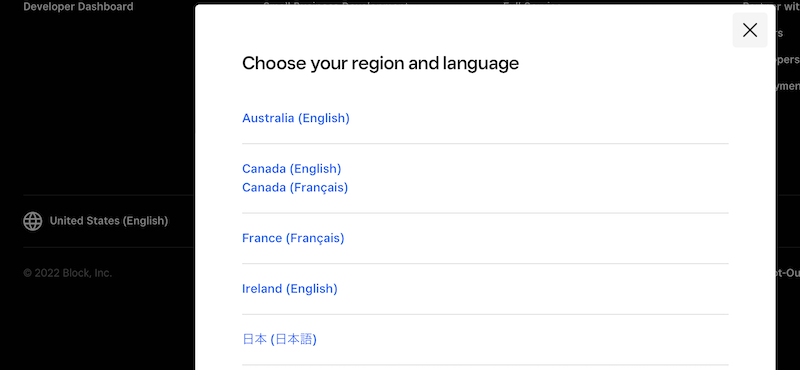 Details aside, it's always good news to see an American-based company localize for Americans.
Here are a few other notes from the Press release:
In addition to translating thousands of web pages and countless products, resources and services, Square's company-wide effort has included hiring dedicated Spanish-speaking employees across the organization. Customer support, account management, communications, and sales personnel were brought on board to ensure that the entire, end-to-end experience of partnering with Square is seamless for Spanish speakers.

According to the Small Business Administration (SBA), Hispanic-owned businesses represent 14% of all U.S. businesses, making them the fastest-growing segment of U.S. small businesses. At the same time, recent data from the Federal Deposit Insurance Corporation (FDIC) shows that about 12.2% of Hispanic households in America remain unbanked, and a Stanford University study found that the odds of loan approval from national banks are 60% lower for Hispanic-owned businesses than white owned businesses, when controlling for business performance.