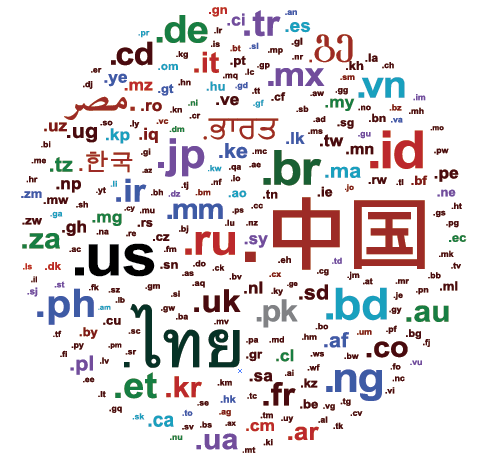 In February, when I published the 2020 Web Globalization Report Card, the coronavirus was itself going global. Since then, there has been much talk about how the coronavirus will turn back the clock on globalization.
The term "deglobalization" is now in vogue. But the meaning of deglobalization varies widely. To some, deglobalization is about moving beyond your reliance on any one country for supplies or manufacturing. As this essay in Bloomberg notes:
China was the biggest winner from globalization, which of course means it will be the greatest loser from deglobalization. In a survey by the American Chamber of Commerce in Singapore, 28% of those polled said they are setting up, or using, alternative supply chains to reduce their dependence on China.
And this essay points toward the (continued) rise of nationalism around the globe:
Not surprisingly, the COVID-19 epidemic is already playing into today's nationalist narratives. To some Americans, the Chinese origins of the disease will simply reaffirm the belief that China poses a danger to the world and cannot be trusted to behave responsibly. At the same time, many Chinese will likely see some US measures to combat the virus as being racially motivated and intended to block China's rise. Conspiracy theories about the US Central Intelligence Agency creating the virus are already circulating. In a world flooded with disinformation, COVID-19 promises to bring even more.

As the Dutch historian Johan Huizinga showed, the period following the Black Death in Europe turned out to be the "waning of the Middle Ages." For him, the real story was not just the economic aftereffects of a pandemic, but the mysticism, irrationalism, and xenophobia that eventually brought an end to a universalist culture. Likewise, it is entirely possible that COVID-19 will precipitate the "waning of globalization."
And, yes, Trump's recent immigration "pause" is another sign of xenophobia raising its ugly head. But Trump did not need the coronavirus to put obstacles in the way of global trade and immigration; he's been doing this from the moment he was elected.
Deglobalization is a reaction to the the real and perceived dangers of globalization.
Companies probably should have multiple supply channels to better avoid the challenges they suffered when China shut down for six weeks. But I don't believe deglobalization portends the end of globalization. As companies develop new supply channels they are going to discover new markets to sell their goods and services.
Globalization is a genie that has long been out of the bottle. The same goes for web globalization.
Optimism is in short supply these days. But while deglobalization has a dark and gloomy feel to it, web globalization is all about growth, optimism, investment.
And, based on my very isolated experiences over the past month, web globalization remains alive and well. I know of numerous companies that are expanding their global footprints this year, both geographically and linguistically.
I see bricks and mortar companies exploring ways to be more virtual, not just in the US but abroad. I see a growing appreciation for relying on globally distributed teams. And I see a growing understanding for how interconnected we all are on this planet, and more empathy for those who are struggling.
And, yes, too many are struggling. It is not fair that virtual companies such as Facebook should be largely immune while thousands of independent restaurants are going to be forced into bankruptcy. I live in a small town that is built around tourism and we face a challenging road ahead.
But tourists will return. People will travel, go to the theater, eat out again. We just have to get through this. And we will.
As I look ahead, I see web globalization emerging stronger than before, a field that not only helps organizations expand but helps them better understand the world, and the world better understand them. I remain optimistic and I hope you do as well.