For the 2020 Web Globalization Report Card, we benchmarked the following 16 automotive websites:
Audi
BMW
Chevrolet
Ford
Honda
Hyundai
Land Rover
Lexus
Mercedes
Nissan
Porsche
Subaru
Tesla
Toyota
Volkswagen
Volvo Cars
For the second year in a row, Volvo emerged number one overall. While Volvo still has much work to do with regards to localization, it will hopefully provide a call to action to other automakers to improve their global game.

Volvo continues to expand its language footprint. It now supports 45 languages, having added two European languages over the past. year. Volvo supports a global template across all markets; shown below are the mobile home pages for the US and Japan: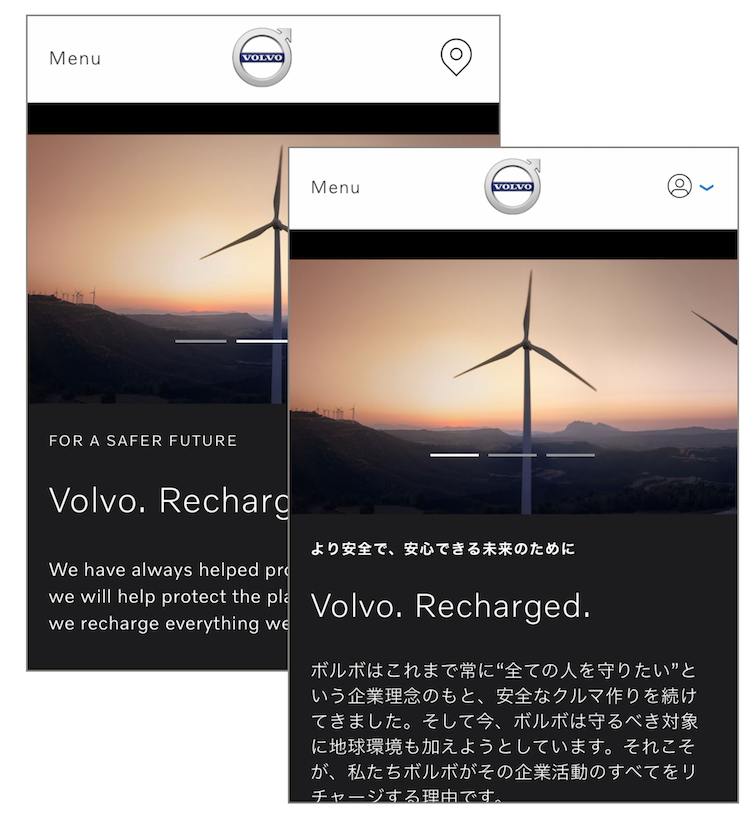 Volvo also does an above-average job of maintaining dedicated local-language social feeds, such as with France, show here: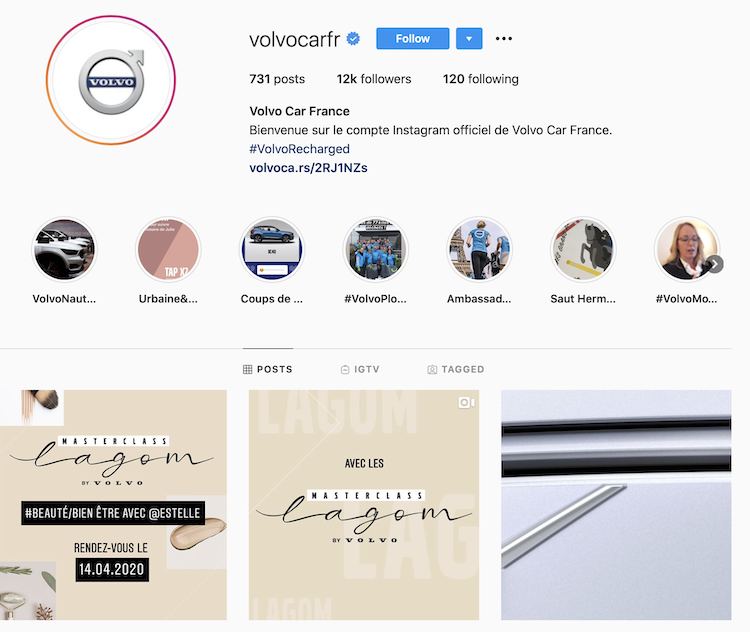 Volvo has embraced geolocation to greet users with their expected preferred website. So a visitor to the .com domain from Germany would be met with a welcome screen in German.
Unfortunately, once on a local website, the global gateway is located in the footer, making it less user friendly, though the globe icon does help.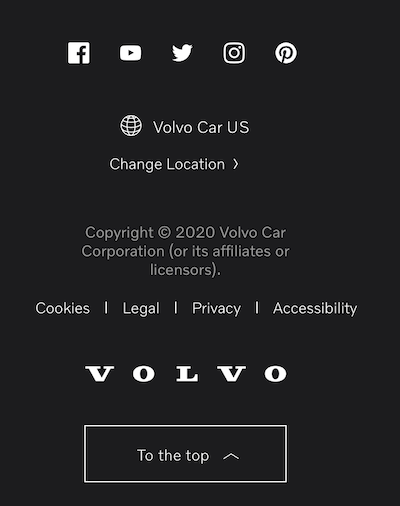 Should Volvo improve its global navigation strategy and continue its global expansion efforts, the company is well poised to retain the number one spot in 2021.
Here are notes on two other websites that made changes over the past year…
Tesla
Tesla increased its linguistic reach to 20 languages, having added support for three European languages over the past year. The company continues to rely on a global template; shown below are home pages for the US and Japan: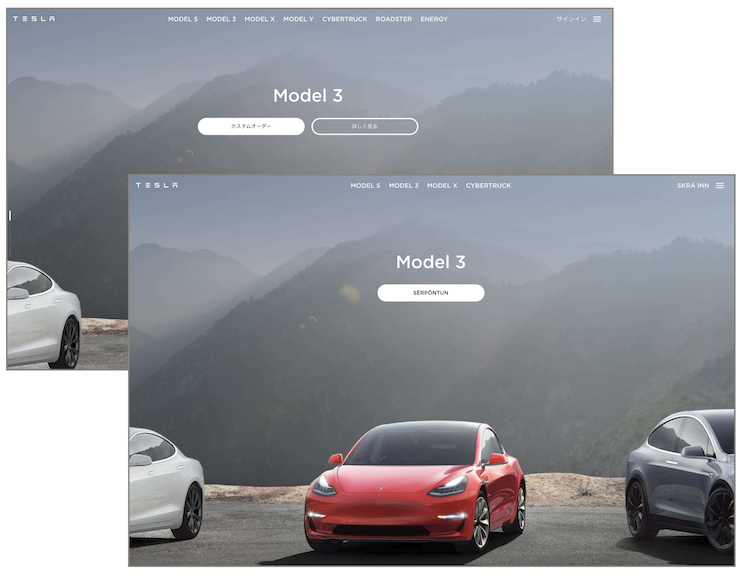 Unfortunately, Tesla also took a big step backwards by removing its global gateway from the home page and burying it within the menu.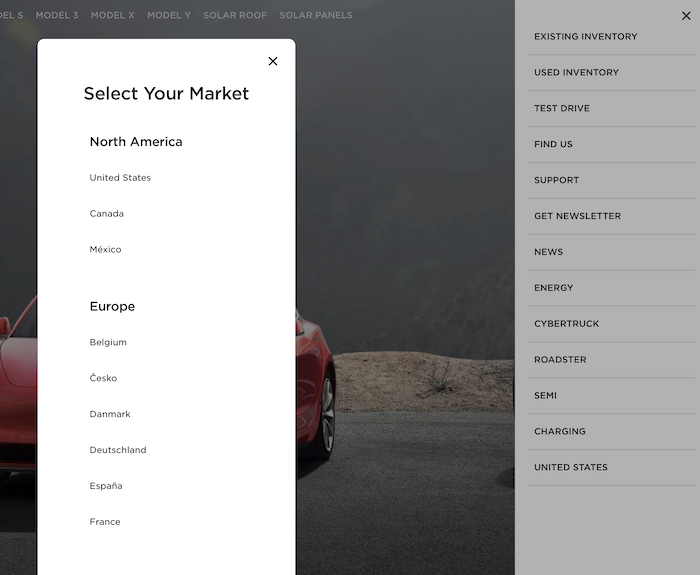 Volkswagen
Over the past year, VW debuted a new, streamlined logo and new web design, which has so far been rolled out to only a small number of markets, such as France and China, shown here: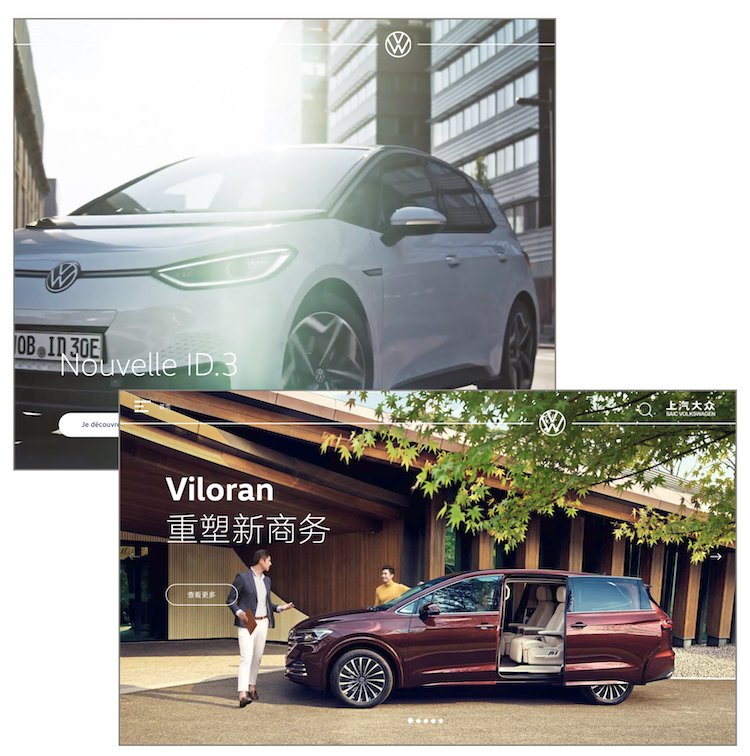 Unfortunately, the new design is completely devoid of any visual global gateway. VW does use geolocation, so a visitor from Japan will be automatically directed to the Japan home page. However, should someone wish to change markets, this will be largely impossible.
While it's early days still with the new VW design, it is imperative that a more user- friendly global gateway strategy be adopted before too many additional country sites are launched.
Additional highlights from the report:
The automotive sector has long been a leader in languages.

As a group, they average more than 40 languages, well above average.

One company became the first automaker to surpass 50 languages.
Four of the 16 companies added languages over the past year.
The majority of websites do an exceptional job of supporting country codes.
Half of the websites use geolocation to improve global navigation.

The automotive industry, despite doing such a good job building global products, has s

truggled to support global consistency across its many locales.

And this results in more costly and time-consuming maintenance of the different websites.



We devote more than 40 pages to automotive website profiles. If you have any questions about the report, please feel free to contact me.
To learn more check out the 2020 Web Globalization Report Card and 2020 Web Globalization Best Practices & Emerging Trends.