As readers of this blog well know, I often refer to China and Taiwan when making the case for avoiding the use of flags on a global gateway. There are many others reasons, of course, but geopolitical issues have become more acute lately.
I could also point to the Russia and Kosovo as another case study for avoiding the use fo flags. As this New York Times article notes Kosovo, despite being a FIFA member, cannot fly its flag at World Cup stadiums:
The flag — which depicts a gold map of Kosovo under six white stars on a blue background — is one of more than two dozen barred from World Cup stadiums by tournament organizers.
Here's a visual of the flags not allowed into the stadiums: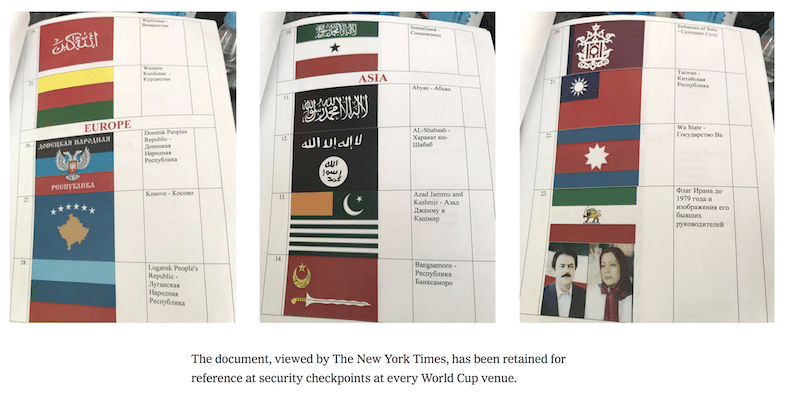 While most countries acknowledge Kosovo and its flag, Russia does not. And because this World Cup is hosted by Russia, well, so it goes.
Which brings me back to your global gateway.
Your global gateway is a tool for helping visitors find (or change) their locale setting, not a geopolitical statement.
So keep you life simple and avoid using flags.
And, yes, I know many companies are still learning this lesson the hard way, but more and more websites are removing flags entirely. You can learn more in the Web Globalization Report Card and Think Outside the Country.
https://www.nytimes.com/2018/07/14/sports/world-cup/banned-flags-kosovo-world-cup.html?mabReward=CBMG1&recid=17NUUBef5yBsIVsA7tidaNHyqHJ&recp=0&action=click&pgtype=Homepage&region=CColumn&module=Recommendation&src=rechp&WT.nav=RecEngine