For the 2017 Web Globalization Report Card, I benchmarked the following consumer-oriented technology websites:
Adobe
Apple
Canon
Dell
HP
HTC
Lenovo
LG
Microsoft
Nikon
Panasonic
Samsung
Sony
Toshiba
Xiaomi
Microsoft and Adobe tied this year for the top spot, with Microsoft winning out based on languages supported. Both companies, along with Nikon, made the top 25 list of best global websites. At 43 languages (not including US English), Microsoft leads this category. The web design remains globally consistent; shown below is the home page for Germany: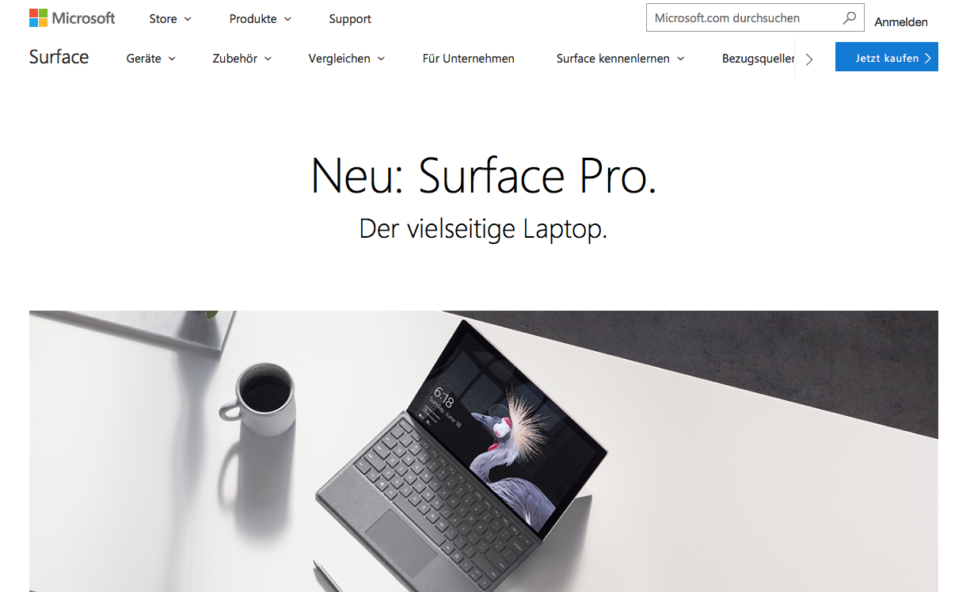 Microsoft is a conglomerate of loosely related brands, which presents website architecture challenges. That is, how do you support the brand while still letting visitors know that this brand is part of the Microsoft ecosystem?
The following two-level navigation architecture is a clean and lightweight solution, and one that would work well with most companies that support many different brands, while still keeping those brands unified under the parent brand. Shown below are the headers for Surface, Office, and Windows: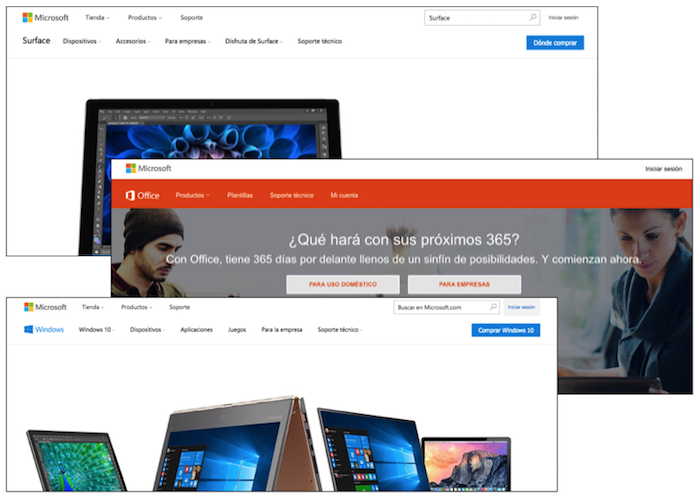 The Microsoft global gateway is universal, which means each country/region link is properly displayed in the native language. This gateway is modified for each brand, such as Surface, shown here: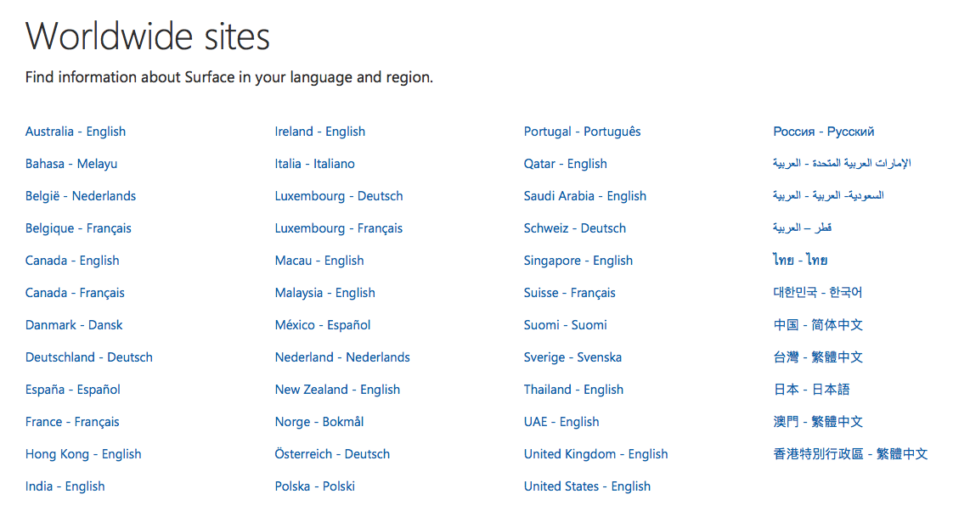 One needed improvement: Promote the global gateway link from the footer into the header (and replace this globe icon with a more generic globe icon):

Adobe
Adobe held steady at 34 languages over the past year.  Adobe continues to support a globally consistent template that is also mobile friendly. Adobe makes excellent use of geolocation to gently alert visitors to the availability of localized websites. Shown here, a French visitor to www.adobe.com is notified that the French website is available, but is also allowed to continue on to the .com site.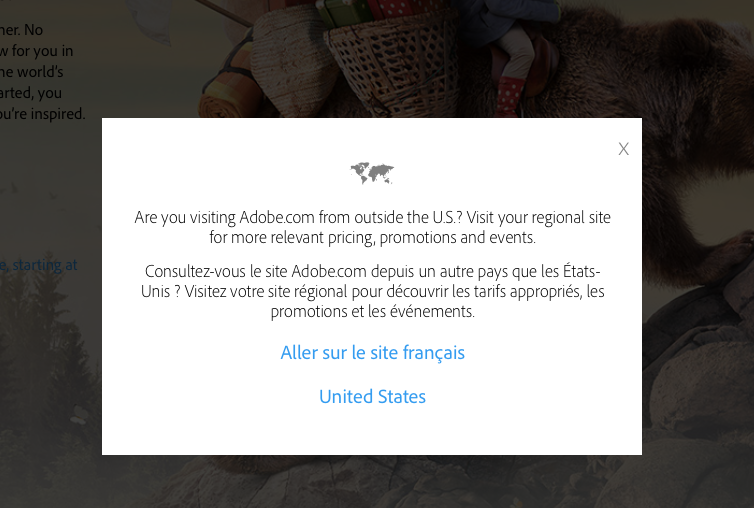 This strategy is wise because it leaves users in control; after all, many visitors may indeed want to remain on the .com site, so it's important to honor that intention.
What about Apple?
Apple made a small but significant addition to its language portfolio last year: Arabic. The website now supports 34 languages, though I believe it should support a great many more, such as Hebrew, Serbian, and Slovenian. Below is the new Arabic-language site for United Arab Emirates:
Apple tweaked its design last week but still, unfortunately, left the global gateway buried in the footer.

More unfortunate, the gateway menu continues to rely on flags.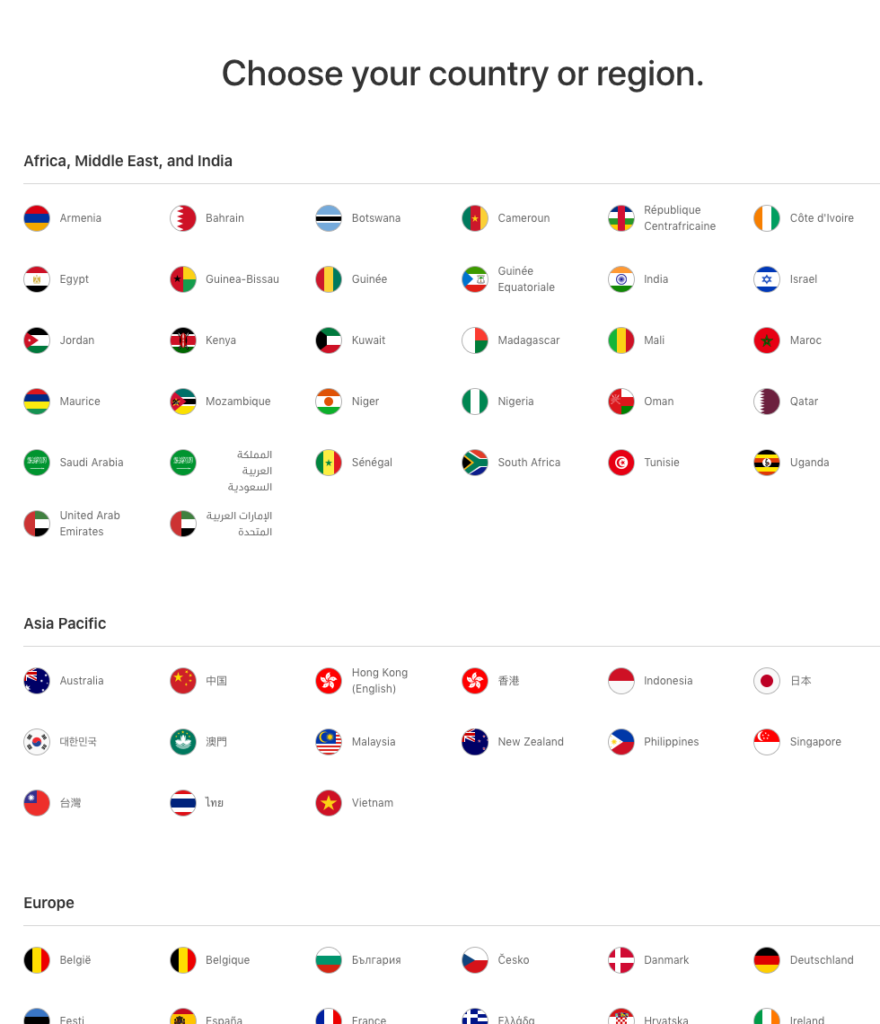 I've been pushing for a number of years to convince Apple to migrate away from using flags. You can read why here. Hopefully we'll see some movement on this soon.