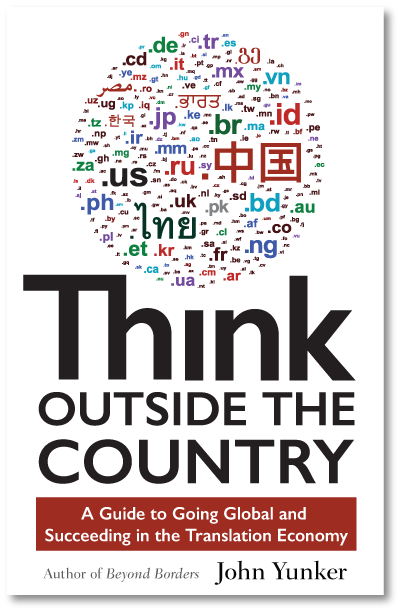 I'm pleased to announce the new book Think Outside the Country: A Guide to Going Global and Succeeding in the Translation Economy, due out on April 10th.
Think Outside the Country is isn't strictly about taking a website or mobile app global, though you'll find plenty of real-world examples about how to do just that. Ultimately, this book is about taking yourself global. It's about providing an understanding of the globalization process along with country and cultural insights so you know what questions to ask when you're asked to, say, introduce a product into a new market or launch a global marketing campaign.
This book is intended for people who want to help their organizations expand into new markets as efficiently as possible without any embarrassing or costly mistakes. And this book is about showing respect for the people who live in these markets.
You won't speak every language, understand every culture. And that's okay. Nobody knows everything. But we can all know a little bit about a lot. More important, we can know what questions to ask. This book will help.
You can learn more here.
And it's now available for preorder on Amazon.
PS: We will also offer quantity discounts if you'd like to order a batch for your teams.