I first noticed this while creating the 2017 Web Globalization Report Card — not on the US website but the German site.
But today Amazon rolled out support for Spanish for the US.
According to CNET:
A spokeswoman for the Seattle-based online retailer told CNET on Thursday that the website has begun adding Spanish. The change will let the US' more than 40 million native Spanish speakers and over 10 million bilingual Spanish speakers toggle between English and Spanish on the site. The US is now the second-largest Spanish-speaking country in the world, after Mexico.
And you can navigate this language via the new globe icon:

Here's a close-up of what you see when clicking on the globe icon: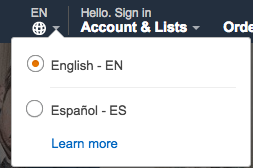 I've long argued (going back to 2004) that the globe icon is best icon for global gateways — even if those gateways are language-only gateways. I'm happy to see Amazon embracing this icon and I've noted in the Report Card a number of other companies that now use this icon. More companies are sure to follow — I say this because I've spoken to several over the past two months that are headed in this direction.
Ultimately this is good news for web users as they will have another standardized icon to rely upon as they travel the world wide web.
PS: And, yes, Amazon supporting Spanish for the US market is big news as well. I'll have more to say about this in the weeks ahead…
Learn more about the best global gateways in the latest Report Card.