It has become an annual ritual, Mary Meeker, a Kleiner Perkins Caufield & Byers partner, releases a data dump of key Internet stats and trends.
Last year, I wrote a  post on a few slides that jumped out at me.
This year, I feel compelled to do this again, after all, some of these slides are truly significant for those of us in the web/software globalization field.
Let's begin with this slide: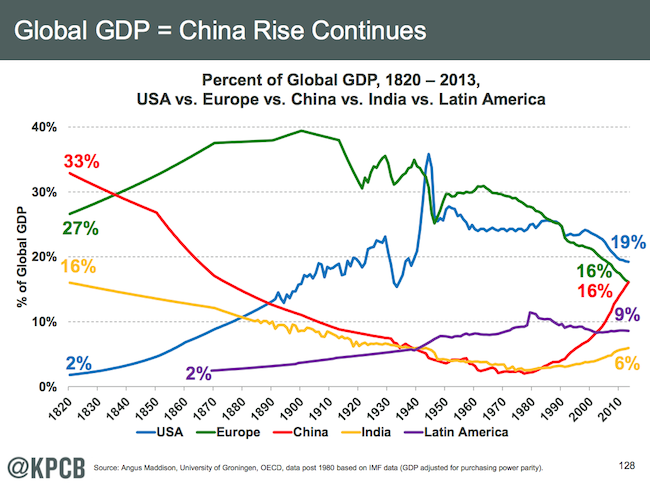 China is on a path to retake its massive share of global GDP.  Truly a staggering growth curve and the major reason why so many companies have prioritized China when expanding overseas. Of course, I do wonder if we're going to see that red line flatten out a bit over the next few years.
Okay, now onto two of my favorite slides. This one is from 2013: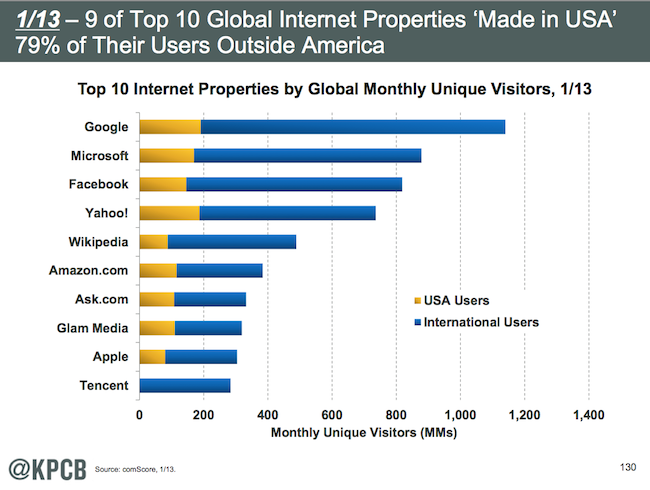 "Made in the USA" web properties dominated the top 10 list last year.
Now let's look at the top 10 for 2014: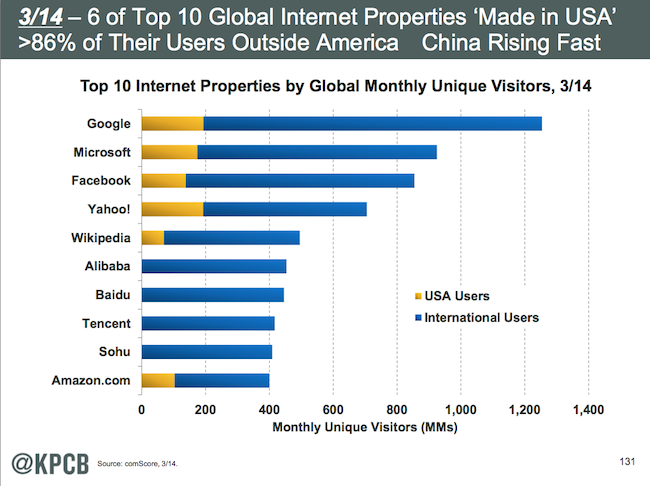 Now there are only 6 "Made in USA" websites on this list, replaced by Alibaba, Baidu, and Sohu. Yes, China again.
But now take a look at the blue vs. yellow portions of each bar — the "Made in USA" website now serve 86% non-US web users, up from 79% last year. If anyone asks you why web globalization is important, show him or her these two slides. Google, Microsoft, Facebook, and Yahoo! are largely serving users based outside of the US.
Which is why I keep banging on this issue.
Now, onto the last slide that jumped out at me: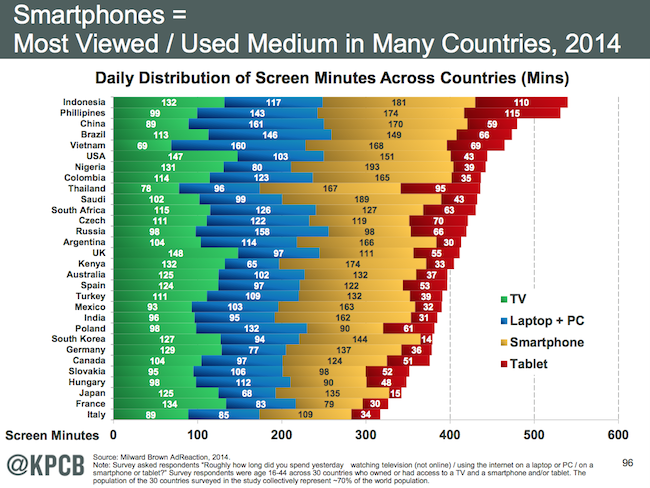 This is a slide detailing the most popular markets for smartphones.
Look at the countries at the top of this list — Indonesia, Philippines, China, Brazil, Vietnam.
If your company is truly "mobile first" when it comes to web development, and you have global aspirations, I hope you have languages like Indonesian, Vietnamese, and Portuguese included in your core language list. The rise of mobile Internet penetration is resorting the list of "major" languages that companies must support.
Here's the link to the full slide deck.