Mary Meeker, a Kleiner Perkins Caufield & Byers partner, recently provided another healthy dose of data and trends, along with a number of predictions.
But the media largely overlooked the web and software globalization implications of many of these slides.
So allow me to chime in on the slides that jumped out at me.
Let's begin with this slide: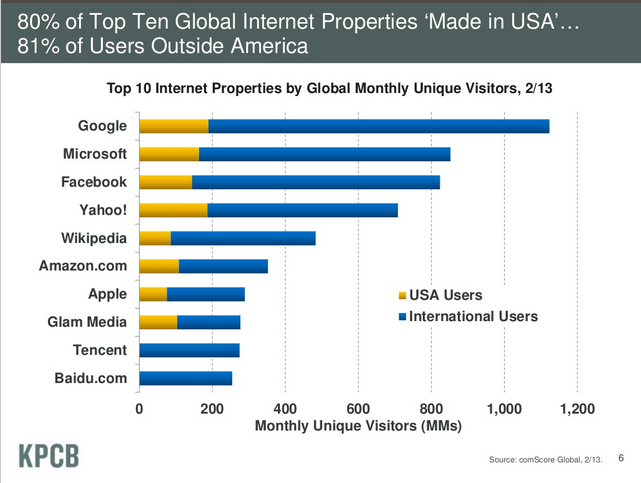 So the "Made in USA" websites are leading the world in overall visitors. But what doesn't get noted is that the top-7 websites average 91 languages.
That's right, 91 languages —  an average skewed heavily by Wikipedia.
Here are my language counts:
| | |
| --- | --- |
| Website | Languages |
| Wikipedia | 285 |
| Google | 145 |
| Facebook | 75 |
| Microsoft | 48 |
| Yahoo! | 47 |
| Apple | 32 |
| Amazon | 10 |
These "Made in the USA" websites have been "Localized for the world." And that's a major reason they're so successful outside the USA.
Next slide: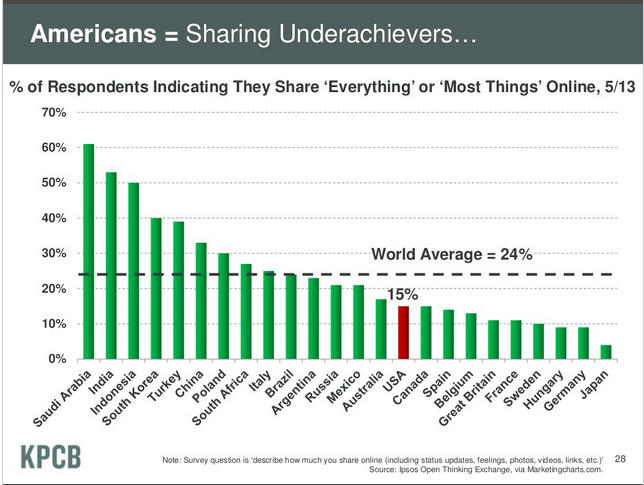 Americans aren't global leaders in "sharing" — though we've been unintentionally sharing quite a lot of our data with the NSA (a rant for a future day).
Now, I'm not sure  how different cultures define sharing, which has to be a major caveat to this slide.
Nevertheless, the fact that different cultures share different types and quantities of information is a major globalization challenge.
This isn't just a Facebook or Google+ issue, it should factor into the degree to which you wish to integrate social networks into your website (as well as your expectations regarding engagement). Privacy concerns could very well be one of the most significant issues of the next decade and beyond.
Next slide: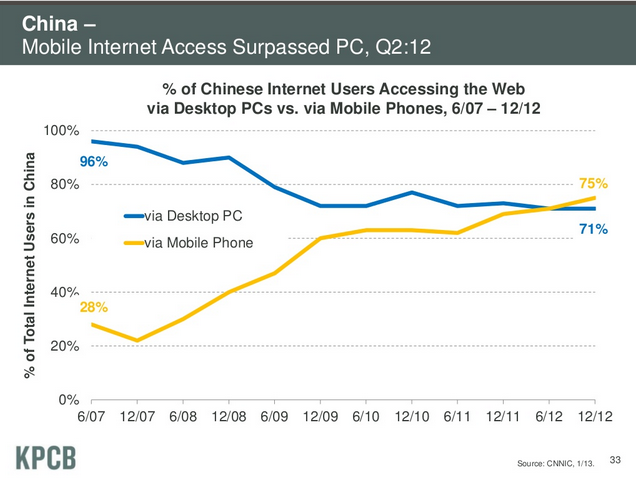 This slide is pretty easy to grasp. But a question that often comes up when looking at mobile trends around the world is "How many of X country's mobile users are using smartphones?"
See below for the answer: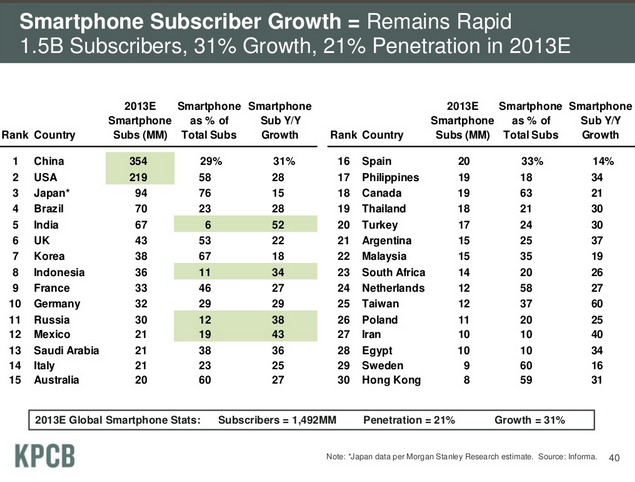 I love this slide because it helps clarify exactly how many mobile users may actually be able to browser your mobile website (or download your mobile app).
China is a significant smartphone market while Russia is not (yet).
So when thinking global about your mobile strategy, you need to also think about smartphones vs. feature phones (those that offer poor or nonexistent web browsing).
So those were the slides that jumped out me. Let me know if something jumped out at you.