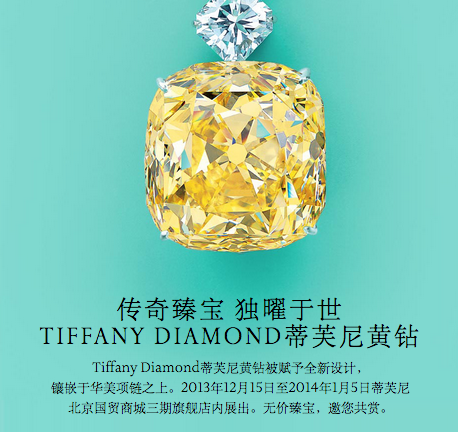 When I lived in New York, I used to get a kick out of visiting Tiffany. Not that I actually purchased much of anything there, but I was always impressed by how well the store packaged itself — down to that distinctive (and trademarked) blue box.
Tiffany has been slowly and steadily expanding globally over the years — most aggressively in Asia.
This WSJ interview with Tiffany CEO Michael Kowalski offers up some excellent insights into where the company is headed and what it has learned so far:
We do believe there are wonderful geographic expansion opportunities for us. We've tried to build a diversified geographic portfolio so that we aren't dependent on any one region or any one country. We've only recently become a stronger presence in the Middle East and we'll open our first-owned-and-operated store in Russia this spring. We're also optimistic about potential in China. Our companywide plan is for Tiffany sales to grow between 10% and 12% for the foreseeable future.
And…
We learned we need to be more overt about how we present our brand. A great example would be the store signage. If you were to look closely at the New York Fifth Avenue store, Tiffany & Co. is written in steel letters on both sides of the doors, perhaps two [feet] in length, six inches in height and it's carved into the granite of the facade. And that's the only signage there is.

When we first came to China, we were equally discreet and subtle in how we presented the brand and that created a problem. People simply didn't see or couldn't see the brand. They couldn't understand what the store was about. We've had to be more direct and less subtle in how we communicate the brand.
I took a look at the website and there is room from improvement.
But first a focus on what Tiffany gets right. Tiffany makes good use of country codes, such as:
www.tiffany.com.br
www.tiffany.cn
www.tiffany.kr
Unfortunately, Tiffany buries its global gateway link in the footer of the template.
And this is particularly troublesome because Tiffany greats first-time visitors with its global gateway landing page:
It's a fine gateway overall — but if you were to select the wrong market by accident this preference is locked via cookie into your browser. So if you try to go back to www.tiffany.com you'll be redirected to the local site, whether you like it or not.
I'm not a fan of redirection. Websites should honor user input — but gracefully make users aware of the local websites (and URLs) so users can go directly there upon return visits.