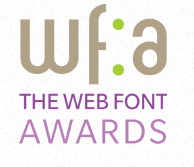 I recently spoke to the folks at Monotype regarding their Web Fonts initiative.
And they mentioned a contest they're running right now to highlight the best implementations of web fonts.
To enter, visit www.webfontawards.com.
They mentioned that there were few submissions featuring non-Latin characters. So I'd love to see some submissions that take full advantage of all the fonts available in the cloud!
Here are the details:
Contest entries can be built with Web font technology from any provider, including self-built solutions, as long as the site or Web page uses actual fonts that are served to Internet-connected machines through the @font-face declaration. Winning entries will be determined at a live judging event on Nov. 16, 2010, during the Future of Web Design conference, November 15-17, in New York City.