Languages are a means to an end, and in web globalization, languages help you expand your global reach.
And global reach doesn't always mean expanding beyond borders, it could also mean expanding within borders — consider Spanish for the US (a trend that continues to tick upward).
That said, any executive with global aspirations is sure to wonder at one point or another: How many languages is  enough?
It must seem that every year, the definition of "enough" inches upward.
The Web Globalization Report Card proves this to be true.
In 2003, when we began the Report Card, 10 languages was widely considered  enough for a global web site.
Today, that baseline is 20+ languages.
As you can see below, the number of languages that companies support has steadily grown over the years. In the 2010 Web Globalization Report Card — in which we tabulated the languages of 225 global web sites across 21 industries — the average was 22 languages.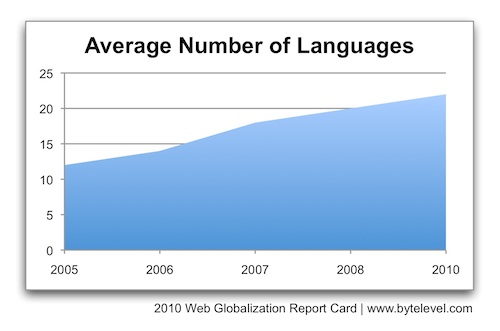 I'm not suggesting that companies add languages for the sake of adding languages.
But I do suggest that companies conduct regular "audits" of their own language mix, the languages supported by the competition, and the languages supported by the ecosystem as a whole.
I'd prefer to be the first company within a given industry to support a new language than the last. Only by keeping a close eye on languages and the competition can you achieve this goal.
Consider Russian. Five years ago, fewer than 40% of the major global web sites supported this language. At that point in time, a company might not have felt any pressure to localize for Russia simply because few other companies did so. Today, seven out of 10 companies now support Russian, which means that companies that hope to do business in Russia and do not support Russian are now in the minority.
Now let's look at three companies in more detail: NIVEA, Starbucks, and Genzyme.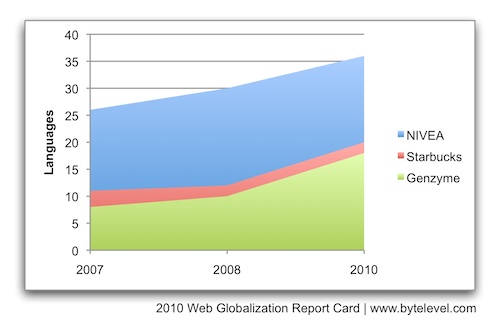 Each of these companies occupies a different industry sector and yet all three continue to add languages, each at its own pace.
For more information on language trends and much more, check out the 2010 Web Globalization Report Card.