Facebook, with support for more than 70 languages, promises to do very well in our 2010 Report Card.
That said, a week ago Facebook began rolling out a new design that includes what I believe to be a global design flaw — one that I hope is reversed in the months ahead.
Now, if you've been reading this blog for awhile you'll probably know what I'm talking about when you look at this screen shot from Facebook's new header: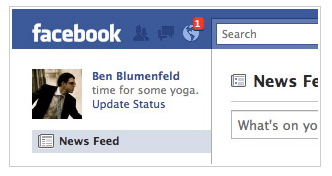 The globe icon is supposed to indicate "Notifications."
Globe icon = Notifications?
Perhaps Facebook is trying to extend the concept of "news" which has long been associated with the globe, mostly in the analog world. I live near the Seattle PI news building, which features a rather large globe on the roof: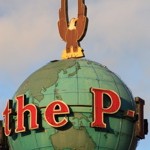 So I fully understand what Facebook is aiming for.
But in the virtual world, the globe is more often than not associated with language or regional settings, or both. I can pull up a list of more than two dozen web sites that use a globe icon for this purpose — including Apple, Panasonic, Xbox, Autodesk, and E*TRADE.
So I find it troublesome to see such a popular web site using the globe icon for something other than language or location, particularly when there are other icons out there that could have just as easily stood in for "notification." Like one of these perhaps:
What really is odd is that if you happen to have the translations application activated on Facebook, as I do, you can have two globe icons displayed on the same page — one in the header and one in the footer — both signifying something entirely different.

I'll admit that I'm more than a little biased here. I've been a vocal proponent of using the globe icon for global navigation for nearly a decade. And I've worked with companies who have used this icon (or a map icon) and seen a measurable increases in global usability. Over the years, more and more companies have followed along, making this icon even more usable for more people.
What Facebook is doing is not only potentially confusing a segment of users who may expect the globe to be associated with language, but also preventing itself from ever creating a global gateway strategy that leverages the globe icon.
The good news of course is that Facebook seems to redesign its site every few months. So it's quite likely this little icon will be "tweaked" as well. I'm certainly hoping so.
To learn more, check out my new book The Art of the Global Gateway.