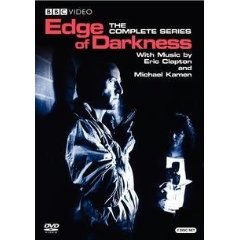 The one-line description on Amazon says:
Police detective Ronnie Craven investigates the killing of his own daughter and becomes embroiled in a vast conspiracy.
Edge of Darkness is a 1985 6-part British mini-series that is still unknown to most Americans.
For now.
I just found out that the series is being released this fall — finally — in DVD format.
My film professor Steve Geller introduced me to the drama back in the early 90s. And I ended up buying it on VHS. It's the only reason I still cling to my VHS player after all these years.
The drama takes place in Thatcher-era Europe. The cold war is on, Reagan is in office, and the nuclear race is still very much a race.
Joe Don Baker — best known for his lead role in Walking Tall — plays an unforgettable role as a CIA agent.
Eric Clapton gets billing for co-creating the soundtrack — and there is no mistaking his guitar. But Edge of Darkness is best known for its use of Willie Nelson's plaintive ballad Time of the Preacher.
Edge of Darkness is multi-layered, ambitious, and prescient.
I've read that Hollywood is remaking this series, with Mel Gibson taking over the role that Bob Peck immortalized. I'm not sure how you remake something that is already close to perfect, but if it draws attention to the original, it will be well worth it.
Edge of Darkness: The Complete BBC Series