Lionbridge evaluated the Spanish-language Web sites of the presidential candidates and found that Hillary Clinton offered the highest percentage of translated content for Hispanic voters.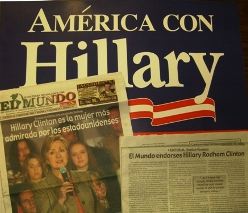 Lionbridge evaluated the sites of Clinton, Obama, and Edwards on the Democratic site and Romney on the Republican side. It appears that Huckabee and McCain have more or less given up on the Spanish vote, as they offer no Spanish content.
The Clinton site offers 210 Spanish language pages versus 2,482 English language web page — 8.4%.
I know, this doesn't sound like much, but it's well ahead of Romney's site, with just 4% translated content, and Obama's paltry 1%.
What about Edwards? Edwards offers only one page of translated content, what I typically call a "local façade."
I realize that language is a thorny issue these days, as it calls to mind thornier issue: immigration.
Nevertheless, Hispanic voters make up 9% of the electorate and could play a large role later this year in picking the next president.
Lionbridge also commented on several other issues, like quality, content, and navigation. Speaking of navigation, I like how Lionbridge notes that placing the "Español" link in the upper right corner is a best practice. This is something I have advocated for a number of years and I'm happy to say that more and more companies (and candidates) are placing their global gateways in this general vicinity.
To learn more, check out the press release.