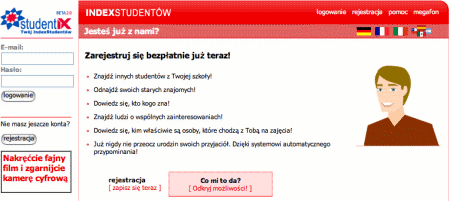 If you've read this blog recently, you are aware of John's reports on Facebook's efforts to translate its Website into German and other European languages. I am a keen observer of the "kraut-sourcing" efforts. However, in Germany Facebook faces an entrenched competitor: "StudiVZ".
StudiVZ is a social networking platform, very similar to Facebook. In contrast to Facebook, the positioning and the target group is extremely focused (for example, during signup you have to explicitly provide your high school or university). There are other affiliated networks like "SchülerVZ" specifically targeting younger people and pupils (until they are "old enough" to join StudiVZ).
In the past StudiVZ has tried to expand into other countries, too, and translated the Website into French, Spanish, Italian and Polish. But despite its efforts and except for Poland, the results were poor: the number of users were well below expectations. This led to a reorganisation of the staff, e.g. reduced teams which operate independently in each country. And now StudiVZ announced that it will "hibernate" its international expansion and instead it will focus its efforts in a renewed and improved software architecture.
For me this a clear move to counter Facebook's advance in Europe, and especially Germany. Let's see how the opponents stack up:
Facebook has an estimated user base of 60 million users worldwide and app. 600.000 in Germany. StudiVZ has app. 4,8 million users and SchülerVZ app. 2,7 millions. Numbers are currently increasing sharply. Facebook 0 : StudiVZ 1
StudiVZ is extremely focused in marketing its platform to students and teenagers. Therefore the numbers above show a deep market penetration in this growing group. Facebook 0 : StudiVZ 2
Facebook has a lot of venture capital backing, while StudiVZ has the backing of only the German publishing group Holzbrinck. Facebook 1 : StudiVZ 2
StudiVZ is trailing Facebook in technology and needs to modernize its software architecture. Right now StudiVZ is a "closed shop" and does not yet allow independent developers in its ecological niche. And the renewed technology might take some time to completely roll out. Facebook 2 : StudiVZ 2
StudiVZ has translated its Website into several languages and can exploit this language base in the future. Facebook has a very large and expanding global user base. Shortly they will have the same language capabilities. Facebook 3 : StudiVZ 3.
Right now I cannot see a clear winner here in Germany, but I see some small advantages for Facebook. But winning over the users from StudiVZ will be difficult and will consume time and money. Maybe a takeover would do the trick.
Moreover, the global reach of users is crucial for potential partners, e.g. for content providers or technological partners. I am referring here to the rumours of a Nokia+Facebook deal. I reckon the combination of mobile Web and global social networking will be one of the most interesting developments in the near future.
But don't forget Orkut and Android, Google's social platform and mobile technology… Ah, what interesting times we live in!
Links