Speaking of Russia, according to the Wall Street Journal (subscription required), Campbell Soup is making a big push into both Russia and China. The company makes most of its money from the US and just a small amount of money overseas, which is not the best place to be if you want to ride the growing global economy.
According to the article, "Chinese and Russians eat soup more than five times a week, on average, compared with Americans' once-a-week, Campbell says. In China, 320 billion bowls of soup are consumed each year, compared with 32 billion in Russia and just 14 billion in the U.S."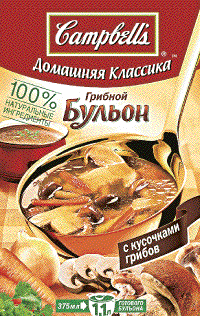 Campbell took a crack at China in the 1990s but didn't do well because it made no effort to localize the product. Campbell is not alone in this regard; see my post on Disney.
For Russia, Campbell has invested in learning all about how the locals make and view soup. For starters, the company has learned that Russians have created unique words specifically to describe soup, such as navaristy. Says the article, navaristy "refers to a thick, heavy soup like the ones Campbell plans to sell in Russia: a beef broth with pieces of meat, onions and potatoes; a chicken broth with chicken, onions and potatoes; and a mushroom soup with large pieces of mushrooms, onions and seasonings."
Campbell is no stranger to Web localization. It currently offers sites for countries such as Germany, Sweden, and Japan.
I checked to see if Campbell had a Russian Web site in place. Nothing so far that I could find. What's worse, it appears that www.campbellsoup.ru has been taken by a squatter.