The Pew Global Attitudes Project recently conducted a survey of citizens of Japan, China, Pakistan, and India.
Conclusion: These people don't like each other all that much.
Between contested territories, painful histories, and the simple fact that neighbors often make the best enemies, I guess none of this should come as a surprise.
Here are the numbers for China and Japan: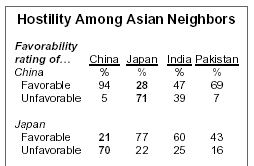 These numbers may be a little intimidating to Japanese companies hoping to win over Chinese consumers, who are among the most coveted consumers on this planet these days. But they must also pose a challenge to Chinese companies with aspirations of becoming global brands, such a Lenovo and Haier and Chery.
Or, perhaps none of this matters as much anymore when it comes to building a global brand — brands are increasingly created, managed, and (to a growing extent) viewed as distinct from their countries of origin.