Google vs. Baidu is the heavyweight battle of the Chinese Internet market. And a lot of media coverage is being devoted to analyzing this fight. Based on what's out there now, Baidu has won round one. The question now is whether Google on the ropes or simply pacing itself…
The New York Times posted a good article Sunday on Baidu's emergence as China's leading search engine — despite the expensive efforts of Google and Yahoo!.
Here are some key excerpts…
In addition, analysts say, entrepreneurs in China have a knack for pummeling American Internet giants. "The globally dominant U.S. Internet companies have failed to take the No. 1 market share position in any category," says Jason D. Brueschke, a Citigroup analyst, of the Chinese market. "And they came with more money and major brand names. And so there's something fundamentally different about this market."

So fundamentally different, Mr. Brueschke believes, that Baidu will retain its hammerlock on the Chinese search industry. "The real battle in the competitive landscape is not about who's No. 1, it's about who's going to be No. 2," he says.

I was surprised to find in the article that Baidu began using pay-per-click adwords before Google — something I had assumed Google pioneered. However, Baidu clearly did coopt Google's famously spare design: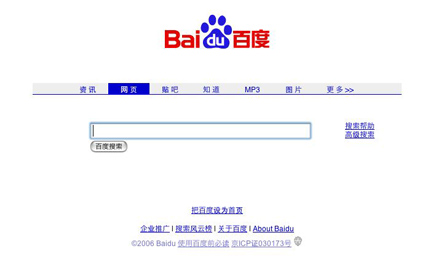 So why is Baidu dominating the search market in China? According to the article…
Analysts say Baidu is playing to a different audience than Western Internet companies because the Chinese are far more interested in entertainment than news, books or car rental rates. "The fact is 70 percent of China's Internet users are under the age of 30," says Richard Ji, an analyst with Morgan Stanley. "Most of them are single, only children. They're looking for entertainment."That may explain why China's dominant Internet companies are all entertainment focused, like Tencent (which hosts online communities and instant messaging) and Netease and Shanda (which are online gaming sites).

The article concludes on a positive note for Google and "challenges still remain for Baidu." Google has been more successful at generating revenues than Baidu.
But The Red Herring paints a much darker picture of Google's prospects in China, saying:
The Mountain View, California-based Google has lost significant share in the three largest Chinese markets of Beijing, Shanghai, and Guangzhou, while Beijing-based Baidu has gained substantial ground and a commanding market share lead.In Beijing, the only city for which detailed results were made available, Baidu's market share rose by 13 percent from one year ago to 65.4 percent, the survey showed. Google fell by 12.3 percent, from 32.9 percent to 20.6 percent.

And the article proposes its reason for Google's declining market share…
Questions on overall satisfaction with major search providers revealed that users in China are "unhappy about the speed of Google," said Mr. Lau, and with penalty time-outs that Chinese ISPs impose on users when they search for sensitive search terms.

These issues prompted Google to launch a China-hosted version of its site at Google.cn, drawing fire from free speech advocates and members of the U.S. Congress. But according to Mr. Lau "only about 3 percent of Google users in China are using the Google.cn website. Most are using Google.com," he said, referring to the U.S.-hosted, uncensored version.

China imposes tight restrictions on bandwidth for traffic entering the country, which means that any Web site hosted outside of China is going to load more slowly than sites hosted within China. It's another way to control content and force companies to invest in the market. But I find it interesting that the Chinese version of Google.com is holding its own against Google.cn.
My theory on Baidu's success?
I think that both articles are correct, but I also think nationalism is playing into Baidu's success. The Chinese may covet German cars and French fashions but they are also loyal to home-grown success stories — and Baidu is the poster child.
That said, Google took over the world in about six years — there is still plenty of time left for it to take over China. But give credit to Baidu for soundly winning round one.