Google continues to go where no other multinational has gone before, adding the following lanugage interfaces:
– Cambodian
– Corsican
– Kazakh
– Lingala
– Pashto
– Quechua
– Shona
– Tajik
– Tatar
– Tonga
– Yoruba
That brings the total of languages supported to 116 (I'm not sure if they've including Klingon and Swedish Chef in that number.
Google Pashto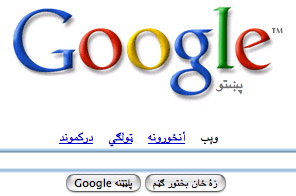 Localizing Google's interface has to be one of the easier projects (as software localization goes). But that's exactly why Google has had such success taking its spare interface global. While Yahoo! has more or less stalled at roughly two dozen languages, Google marches on.
Want to know what languages are in the works? It's no secret; Google recruits volunteer translators and posts the status of all languages here. I find it interesting that a company that is about to raise a cool $4bn in cash is still using volunteer translators. But it sure seems to be working for them.