The Wall Street Journal (subscription required) covers the recent launch of PayPal's French Web site.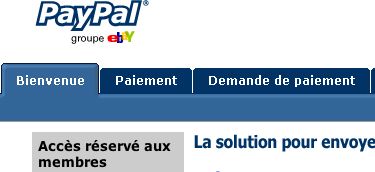 Two things I found interesting:
1. PayPal is wisely following in eBay's footsteps. As eBay expands its global precense, PayPal follows closely behind to offer payment services. So now that eBay is planning a Chinese Web site, it's safe to say the PayPal China site is not far behind.
2. Like many other Internet companies, PayPal expects international revenues to outpace US revenues. The only question is the timing. Here's a quote:
"E-commerce is much more hindered in Europe, therefore a good payment tool like PayPal has huge potential, not only for eBay but for e-commerce in total," said Mr. Entenmann (managing director for PayPal International). He added that PayPal's international business should exceed its U.S. business in the long run, though he declined to specify a time.