Amazon recently released Q2 numbers, and, as we predicted, international sales are now solidly driving Amazon's growth. Take a look at the sales breakdown between North America and International: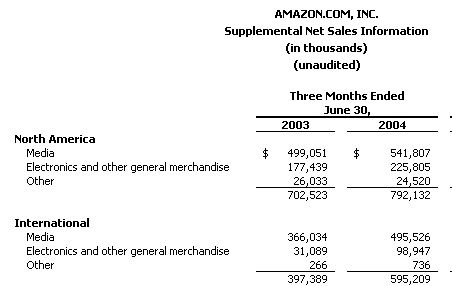 If the trend holds, by the end of this year international sales will surpass North American sales. And when you focus on just the core media business, international could outperfom North America in Q3.
Now, how will this trend affect Amazon and its competitors? Here are a few thoughts…
1. For the folks in charge of Web globalization, this is great news. I'm quite confident that Amazon has at least two new localized Web sites in the works and would not be surprised to see half a dozen new sites launched over the next two years. What countries will be next? I would look for China, India, Russia and Spain.
2. Amazon will launch a more effective "global gateway" on its .com Web site. I have long felt that Amazon needed better global navigation on its .com Web site because studies consistently show that international Web users often first visit the .com Web site of a company (assuming that there is no localized Web site or that there is a link to this Web site). I realize that Amazon advertises locally and hosts the sites using country-specific domain names, but more can always be done here. Ultimately, all first-time visitors to Amazon.com will be asked to select a country/language preference.
3. Tensions will rise between Seattle employees and international employees. I've witnessed this at other companies, and it can be difficult to avoid. The folks that work at headquarters get comfortable viewing the in-country offices as "satellite" offices. But these satellites are collectively going to be more important to Amazon's future than HQ. Will this lead to a loss of jobs in Seattle? Will people in the country offices get a boost up the corporate ladder? These are questions that everyone will be asking as Amazon transitions from a US company serving the globe to a global company serving the globe.