According to a new report from the China Internet Network Information Center (CNNIC) — the country's Internet regulatory body — China now has 31 million broadband Internet subscribers, an increase of 79% over the past six months. Total Internet users (broadband and narrowband) number more than 81 million.
Contrast that with the US, in which there are roughly 48 million broadband subscribers and more than 140 million overall Internet users.
The US is still in the lead, for now. But China is only just awakening to the Internet. In the CNNIC report, a wealth of demographic and usage data points to continued growth. The following exhibit shows Internet users by age. More than half of all users — i.e., more than 40 million — are under 24 years of age.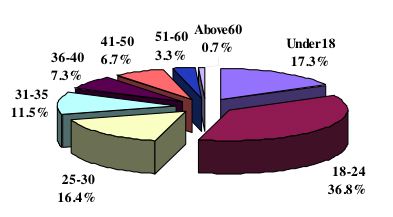 And these young people love to shop. According to the report, more than half of Chinese Internet users plan to start shopping online in the coming year.
But don't expect these shoppers to go browsing English-language Web sites. Consider this statistic from the CNNIC report, showing language preference of these Internet users:

Any company that is doing business in China or hopes to do business in China needs a Chinese-language Web site. That's step one. Step two will be to create a Chinese Web site that's better than the competition.
But first steps first…
The CNNIC report can be downloaded here.