We've heard of peak oil and peak TV to indicate a point in time when growth ends and decline begins.
It appears that we have reached a similar peak in languages.
Last year was the first time in 19 editions of the Web Globalization Report Card that the net total of languages added and lost fell into negative territory.
As seen below, the average number of languages supported by the leading global brands dropped to 33 from the year before.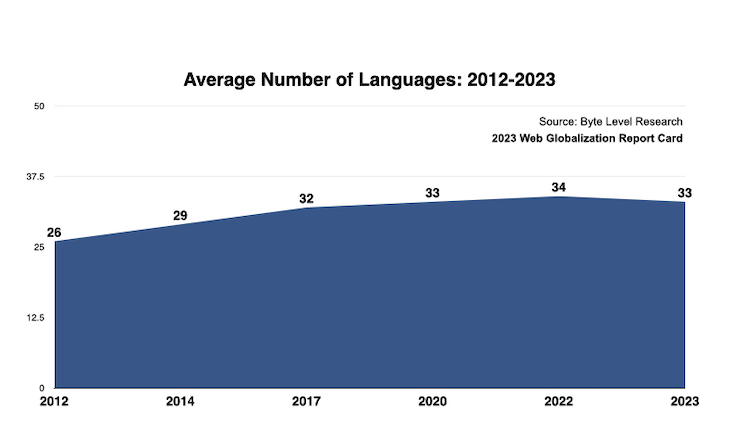 Deglobalization is definitely a factor. China has long posed a challenging market for many global brands, so much so that some have given up on the country entirely. And for the past 18 months, we've seen a wave of global companies withdraw completely from Russia, shutting down operations as well as websites.
Now, to be clear, I don't believe web globalization is on the decline.
I believe we're in a period of resetting expectations and resetting global strategies. As I have long documented in the Report Card, too many companies have historically done a poor job of web localization. And as companies face economic headwinds, it's natural for executives to reexamine these local websites and the underlying strategies and expectations.
Web globalization is a journey without end. Yes, we've hit a bit of a detour in that journey, yet I'm confident that we remind on the cusp of another wave of global and linguistic growth.
To learn more, check out the 2023 Web Globalization Report Card.