A few months ago, Global by Design sponsor Lilt sponsored a survey to assess the state of the localization industry.
That report is now ready and it reflects input from more than 900 localization professionals. It's a great read and I recommend either downloading it yourself or registering for the July 7th webinar.
I was struck by the divide between centralized and decentralized localization workflow models. I've worked with both models over the years and found it interesting to see the roughly even breakdown in this report. I believe that the best workflow combines attributes from both models: balancing global consistency with local flexibility.
I was also interested to see that more than half of the respondents work at organizations that support 10 or fewer languages. This reinforces what I've been seeing over the past two years — a surge in small and medium-sized companies in the early stages of going global. This is great news for our industry and promises new innovations on web and content globalization.
To download the report, click on the cover below: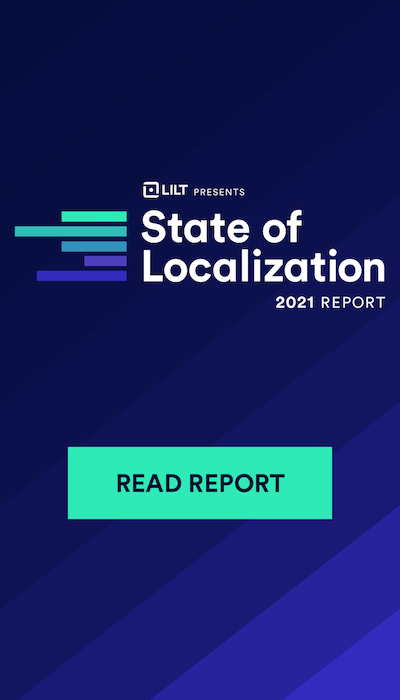 Join the July 7th Webinar
Register of the upcoming State of Localization 2021 Webinar happening on July 7th. According to Lilt:
Get insights from VPs of Localization and Translation Program Managers to CMOs and Product Leads coming from various companies and backgrounds. From this data, we were able to paint a better picture of the impact, challenges, and trends that the industry faces overall, what's missing and what will likely change in the coming years. The numbers, data trends, and takeaways from this report show that one thing is abundantly clear: a new age of global customer experience is here.