I began the Web Globalization Report Card back in 2003. It became the first report of it kind to benchmark global websites and I've been publishing this report annually ever since then.
For the first time in all those years, the average number of languages supported by these websites did not increase, as shown here:
Note that this graphic reflects the leading global brands only, websites like Apple, Microsoft, Coca-Cola, Starbucks, and Mercedes. If I were to step back and pick a few thousand websites at random, the average would drop precipitously.
Because, even today, very few websites support more than 30 languages. And yet I expected that over the past year that I would see more companies dropping languages than I actually did. Even the hard-hit travel sector held steady.
While a number of companies did drop languages, such as Cisco and IBM, nearly a third of the websites studied added languages, which shows a good deal of optimism regarding the global economy, especially within certain sectors.
For example, FedEx added eight languages, expanding to nearly 40 languages overall. Loréal added eight languages, including Latvian, Estonian, and Greek. And Rolex added three languages.
When you take into account the shock of the pandemic and step back and take a longer view, language growth is everywhere, though unevenly distributed. Here are a few selected companies: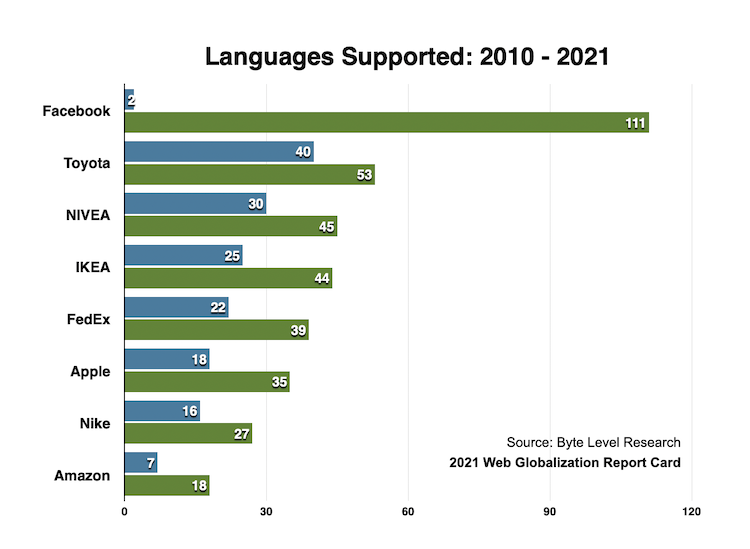 As I've long said, the internet connects devices, but language connects people.
Language growth will continue and most likely accelerate as we emerge from this pandemic and more companies begin expanding into India, Eastern Europe, and Southeast Asia.
For more information, check out the latest Web Globalization Report Card and the included report Web Globalization Best Practices & Emerging Trends.