Very interesting New York Times article on Harley-Davidson's decision to close its Indian factory and effectively cease selling motorcycles in a market where motocycles are hugely popular.
But Harleys are far from inexpensive, as the article notes:
The company's motorcycles also remained out of reach for many. Harley's top model exceeds $88,000 in Delhi after taxes and licensing fees. That is 41 times India's average yearly income, according to the World Bank.

People in India overwhelmingly prefer cheaper, lighter bikes that are easy to maneuver along the country's potholed, traffic-choked roads. The most expensive bike from Hero MotoCorp, one of the country's biggest manufacturers of motorcycles and scooters, costs around $1,500.
Granted, Harley is facing challenges not just in India but in the US, due to an aging customer base. But one would think the company would have made more of an effort in this market. Instead, it appears the company wants to go even more upscale in the future.
On a web localization note, I don't believe Harley-Davidson had ever gone beyond English on its Indian website, shown here: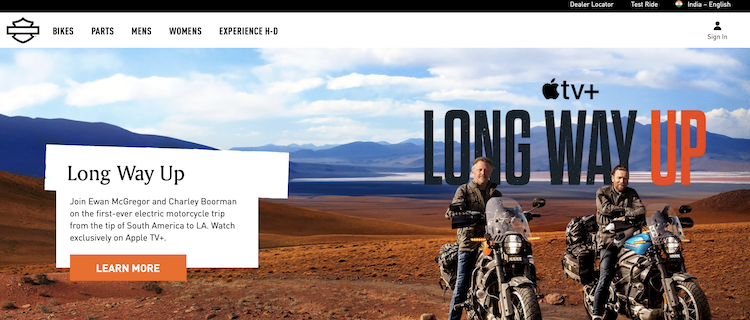 I'm not sure any language could have overcome the pricing and marketing challenges the company faced in India, but I doubt it could have hurt to have invested in a few local languages.
I'm often asked how many companies drop their localized websites, and I usually answer that it's a very small fraction of companies and usually the result of a much larger problem. This is definitely the case with Harley-Davidson, a company that failed to find its inner jugaad in India.
For more on website localization and language trends, check out the Web Globalization Report Card.