You hire a vendor to conduct a global survey.
And let's suppose this vendor refers to Taiwan as a country and the email goes out to people in China who believe differently, and they happen to be in a position to punish you by blocking your website within China.
This is roughly what happened with Marriott.
According to Skift it was indeed a vendor that led to this misstep. And the CEO, Arne Sorenson, has vowed to make sure it won't happen again:
"We should have caught it, even though it was provided by a third party, and we didn't catch it," Sorenson said. "We moved quickly to fix that mistake and we are moving as quickly as we can to look at all of the stuff we've got exposed out there online to customers in China and customers around the world to make sure we are not making similar mistakes in the future."
This is a lesson that all companies should take to heart. When you hire vendors to communicate with the world on your behalf — you have to audit their work just as closely as you would your own. Because at the end of the day it's your brand name that will suffer.
Here we are, roughly six weeks later, and the Marriott website still appears to be blocked. Mistakes happen, but the more educated your marketing and web teams are to global and local regulatory and cultural issues, the fewer of these mistakes you will make.
Which leads me to a new report that we've just published: Web Globalization Bloopers & Blunders.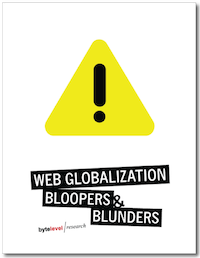 I've found over the years that it often helps to highlight the more common mistakes that organizations have made to help other organizations sidestep them. This report is included with the 2018 Web Globalization Report Card.