I'm excited to announce the publication of The 2017 Web Globalization Report Card. This is the most ambitious report I've written so far and it sheds light on a number of new and established best practices in website globalization.
Here are the top-scoring websites from the report:

For regular readers of this blog, you'll notice that Google is yet again ranked number one. But Google isn't resting on its laurels. While many software companies are happy to support 20 or 30 languages on their websites, Google continues to add languages across its many products. Consider Gmail, with support for 72 languages and YouTube, with 75 languages. And let's not overlook Google Translate, now at 100+ languages.
Google could still stand to improve in global navigation, though I am seeing positive signs of harmonization across its many product silos. But I do maintain the recommendation that Google present a more traditional global gateway to visitors across its sites and apps.
Other highlights from the top 25 list include:
Consumer goods companies such as Pampers and Nestlé are a positive sign that non-tech companies are making positive strides in improving their website globalization skills.
IKEA returned to the list this year after making a welcome change to its global gateway strategy.
Nissan made the top 25 list for the first time. BMW slipped off the list.
As a group, the top 25 websites support an average of 54 languages (up from 52 last year); if we removed Wikipedia from the language counts the average would still be an impressive 44 languages.
GoDaddy, a new addition to the Report Card, wasted little time in making this list. Its global gateway is worth studying.
Luxury brands such as Gucci and Ralph Lauren continue to lag in web globalization — from poor support for languages to inadequate localization.
The average number of languages supported by all 150 global brands is now 31.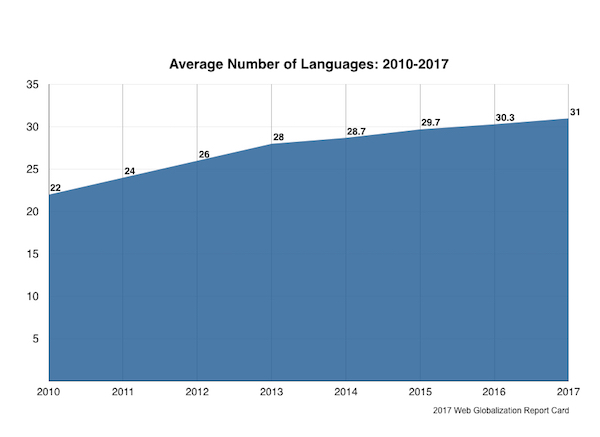 But as you can see here, the rate of language growth, on average, is slowing. That's not necessarily a bad thing. Companies are telling me that they are investing more on depth and quality of localization — which is of huge importance.
The data underlying the Report Card is based on studying the leading global brands and world's largest companies — 150 companies across more than 20 industry sectors. I began tracking many of the companies included in this report more than a decade ago and am happy to share insights into what works and what doesn't. Time is often the greatest indicator of best practices.
I'll have much more to share in the weeks and months ahead. If you have any questions about the report, please let me know.
Congratulations to the top 25 companies and the people within these companies that have long championed web globalization.
The 2017 Web Globalization Report Card
Click here to download a PDF brochure for the report.