Over the past decade Simplified Chinese has grown to become one of the most popular languages on global websites, second only to English.
According to the Web Globalization Report Card, which has long monitored languages supported by the world's leading brands, Chinese was seen on only about six out of ten websites in 2006.
Today, it is seen on virtually every global website.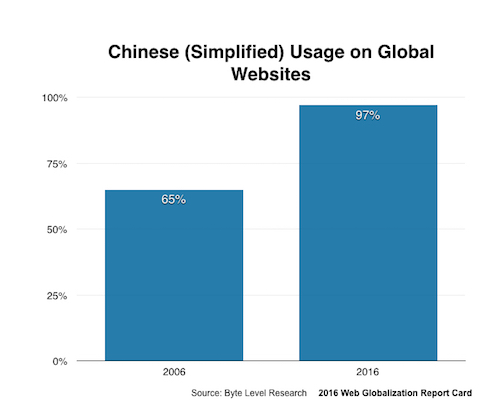 That's not to say languages such as French, German and Spanish aren't important as well. In fact, French is right on par with Chinese, followed by German, Japanese, and Spanish.
Here are the top 10 languages overall: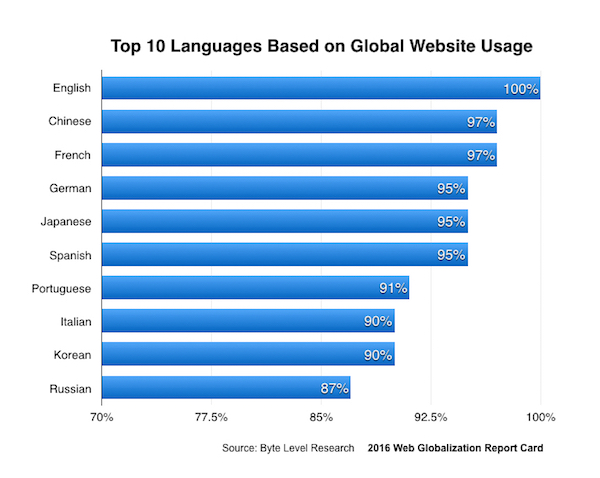 I should also note that Russian has seen a significant rise in usage over the past decade. In 2006, Russian was seen on only 42% of all global websites and now it's up to 87%.
But there are language gaps still remaining. Arabic, for example, is spoken by more than 240 million people but only half of all global websites support it (so far).
And Hindi, with more than 260 million speakers, sees a paltry 4% of global website support — many companies cling to the hope that English will be sufficient for India. Perhaps for today but not for long. Consider that companies such as Facebook, Google and Twitter have embraced Hindi, as well as other Indic languages, foreshadowing a time when other companies will be compelled to follow their lead.
To learn more, check out the 2016 Web Globalization Report Card.
To learn more, check out the 2016 Web Globalization Report Card.