For the 2016 Web Globalization Report Card, we studied 13 automotive websites:
Audi
BMW
Chevrolet
Ford
Honda
Hyundai
Land Rover
Lexus
Mercedes
Mini
Nissan
Toyota
Volkswagen
I want to preface this post by saying that automotive websites have historically been strong on languages but weak on global consistency and global navigation. This year is no exception, though there are promising signs that automotive websites are making improvements in global consistency. Automotive companies are highly decentralized organizations with independent web teams and budgets, which often results in websites that share few design elements across country/region websites.
Out of those 15 websites studied, BMW emerged on top.
With support for 41 languages (excluding US English), BMW is among the leaders in this category (Nissan and Honda are tied for the lead).
BMW also does a very good job of supporting country codes, with the notable exception of its US website, located at: www.bmwusa.com.
Because BMW has an oddly separate domain for the US website, US visitors to the .com domain see this overlay: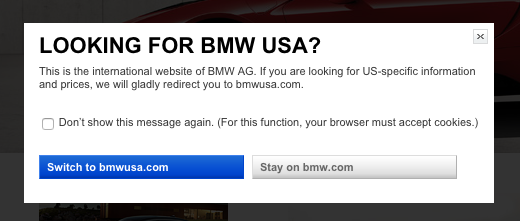 This is not the ideal solution for this navigation challenge, but it's better than what most other websites do in this situation, which is effectively nothing.
BMW does lack a prominent visual global gateway across all websites — a feature most automotive websites also sadly lack.
Now let's talk about global consistency. Here are three localized BMW websites: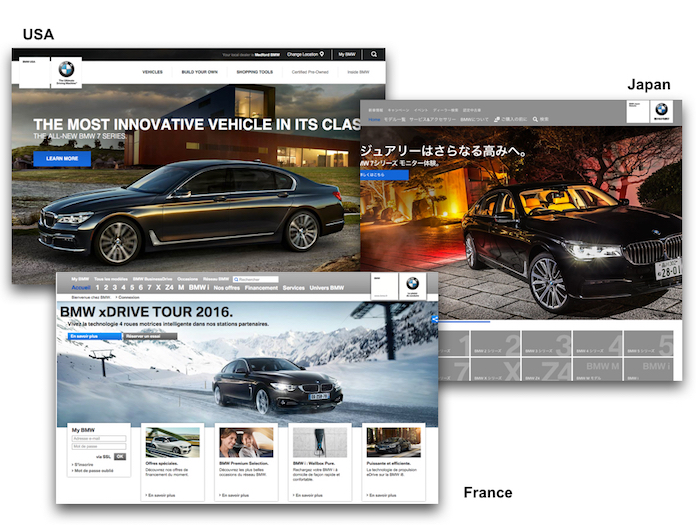 There are three different templates in use here, which we do not recommend. However, at least the logo elements are consistent (though not consistently positioned).
And yet, if you compare BMW to Honda, shown here you'll even see a mix of logo elements. So BMW still has a slight advantage. Audi, Nissan, and Land Rover also are above-average in global consistency.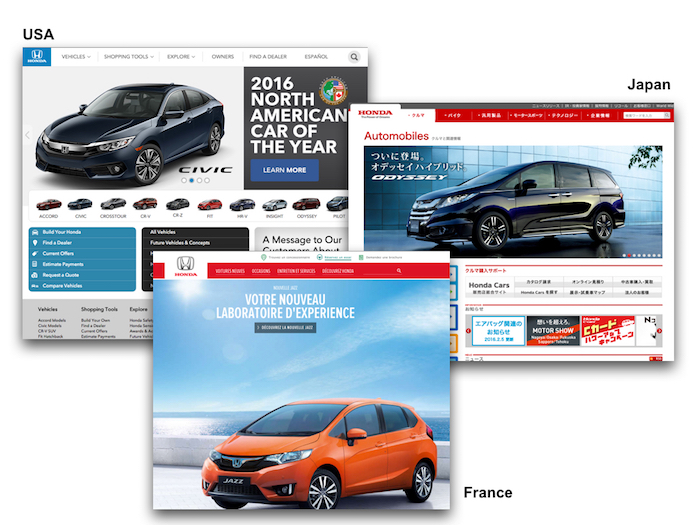 Now let's talk mobile. BMW is the only mobile website in this sector to weigh less than 1 MB.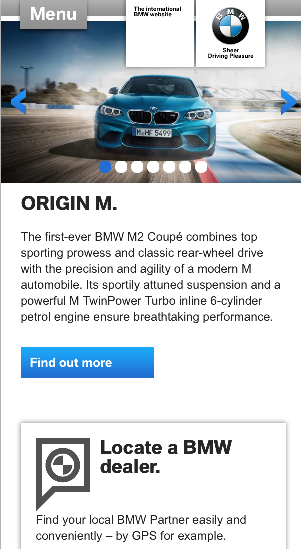 This is significant, and a big reason why, for the first time since 2011, an automotive website made it into the Top 25 list.
For more information, check out the Web Globalization Report Card.