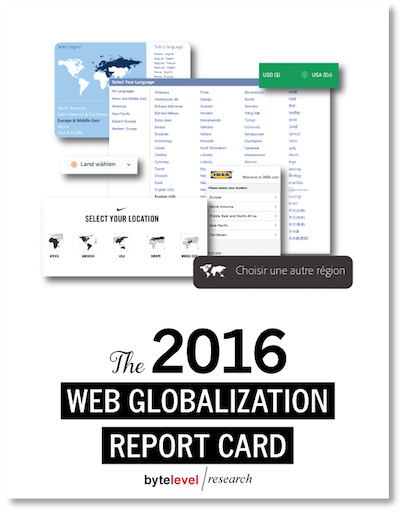 UPDATE: The 2017 Web Globalization Report Card is now available.
I'm pleased to announce the publication of the 2016 Web Globalization Report Card and, with it, the top 25 websites:
Google

Facebook

Wikipedia

Hotels.com

NIVEA

Booking.com

Nestlé

Pampers

Adobe

Intel

Twitter

Microsoft

American Express

BMW

3M

Hitachi

Starbucks

Nike

Samsung

Cisco Systems

Nikon

TNT

Philips

Autodesk

ABB
It's hard to believe that this is the twelfth edition of the Report Card. Over the past decade I've seen the average number of languages supported by global brands increase from just 10 languages to 30 languages today.
And, of course, the top 25 websites go well beyond 30 language. Google supports  90 languages via Google Translate and 75 languages on YouTube. And Facebook stands at 88 languages.
But it's not just languages that make a website succeed globally. Companies need to support fast-loading mobile websites, locally relevant content, and user-friendly navigation.
Notable highlights among the top 25:
Wikipedia is far and away the language leader, with content in more than 270 languages. The company also now supports a mobile-friendly layout that is considerably lighter (in kilobytes) than most Fortune 100 mobile websites.
NIVEA provides an excellent example of a company that localizes its models for local websites — one of the few companies to do so.
Nike made this top 25 list for the first time, having added languages and improved global consistency and navigation.
As a group, the top 25 websites support an average of 52 languages.
For 2016, we studied 150 websites across 15 industry categories — and more than 80% of the Interbrand Best Global Brands. Websites were graded according to languages supported, global navigation, global and mobile website architecture, and localization.
Congratulations to the top 25 websites!