For the 2015 Web Globalization Report Card, we studied 10 retail websites:
Best Buy
Costco
GameStop
Gap
H&M
IKEA
McDonald's
Staples
Starbucks
Toys R Us
UNIQLO
Walmart
Zara
Out of those 10 websites, Starbucks emerged as number one. Here is a screen shot from the German site: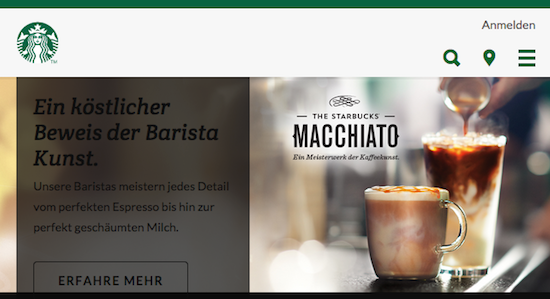 McDonald's leads the category in languages supported, with 39 (in addition to English), but still lags in regards to global consistency and localization. Starbucks, on the other hands, supports a highly consistency — and responsive — global website, which allows its many locales to focus more on content and local engagement.
Starbucks added Norwegian over the past year.  To get an idea of how Starbucks has expanded globally over the past decade, below are two global gateways.
Here is the global gateway in 2006, displaying just seven localized websites: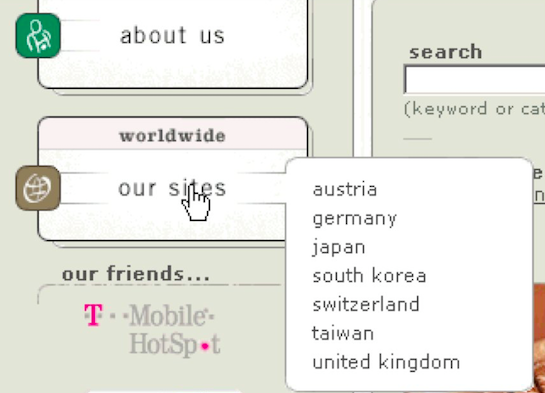 And here is the global gateway today: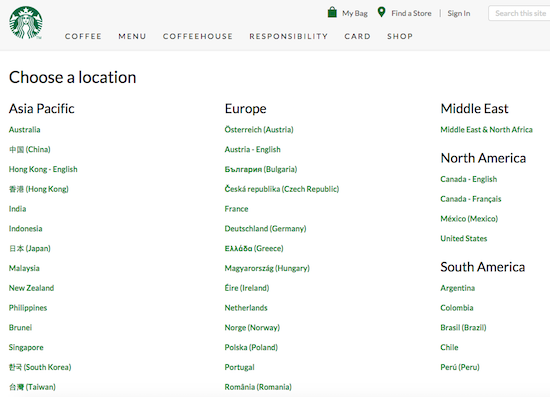 Starbucks went all-in with local-language social networks years ago — an effort that has proved quite successful. Though the number of followers of the company's local-language Facebook pages are considerably fewer than the global page, the level of engagement is higher.
Starbucks also supports a very sophisticated mobile app (though the app still lags most other major global apps in localization). Also lagging is the Starbucks' global gateway — which has so far been demoted to the footer.
Only Starbucks and IKEA made the top 25 list of best global websites.
Zara and H&M are two other retail websites worth keeping a close eye on in the year ahead.