I still look at the Buick brand as something for the post-60 demographic (though I must confess that demographic doesn't feel quite so old anymore).
It's an image Buick has been working to change for years.
But the beauty of globalization is that Buick doesn't carry this sort of generational baggage in other countries.
Like China.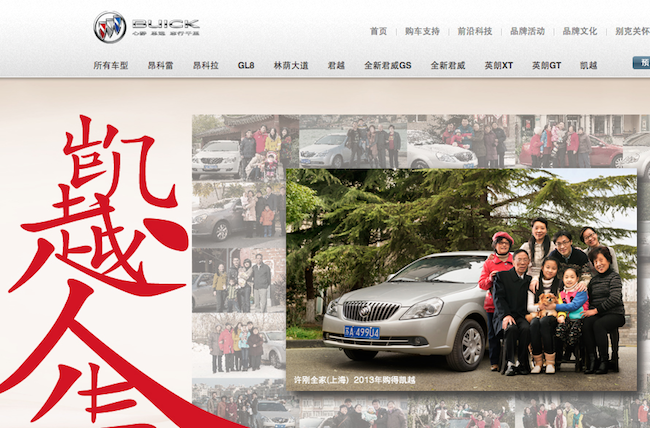 The Chinese apparently love Buicks.
So much so that Buick sold 809,000 cars in China in 2013, compared with 205,000 in the US.
Crazy.
Here are some insights into why Buick has succeeded in China. An excerpt:
The common view of Buicks in China is different from that in the U.S. The cars are the choice of business people and government officials. Chinese executives are partial to minivans, which don't come with the kid-hauling image they have here.

General Motors, which owns the brand, has capitalized on that popularity.

When it saw Chinese executives were partial to minivans, it designed the GL8 Luxury MPV just for the market, making it especially spacious and comfortable.
Buick is now releasing models in China ahead of the US.
Finally, let's look at the Buick global gateway: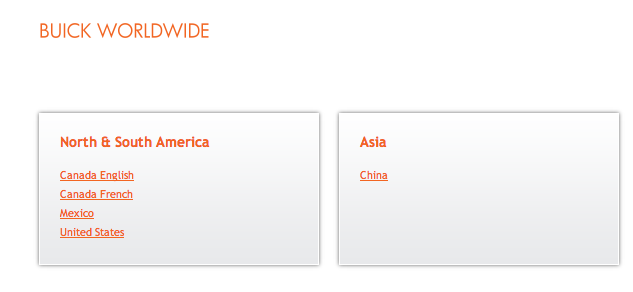 This global gateway accurately reflects Buick's leading markets in terms of sales.
And here is where Buick could be a bit short-sighted — it offers no localized websites for countries where I believe it intends to expand in the years ahead.
Perhaps all Buick needs is China. But what about Japan, South Korea, Taiwan?
Buick is clearly not our parent's car brand any longer.
It's a uniquely Chinese car brand.