Few companies appreciate the value of country codes as Amazon.
As you can see here, Amazon goes a step further and integrates the cccTLD directly into the logo: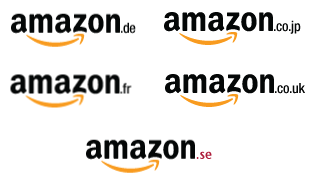 According to a post on Good E-Reader, Amazon has been stymied in its quest to obtain a country code for Sweden. Amazon also doesn't appear to have Finland (amazon.fi).
Fortunately, Amazon does own Amazon.no and Amazon.dk.
This just goes to show that even many of the world's largest companies were a bit late to the country code land rush.
If this post is true regarding Sweden, this is a positive sign that Amazon has (at least) a few localized websites in the works.
It's about time.