UPDATE: The 2017 Web Globalization Report Card is now available.
I'm happy to announce the publication of the 2012 Web Globalization Report Card. This year, we reviewed 105 websites across 17 industries; the websites comprise 70% of the Interbrand Best Global Brands of 2011. This year, we also reviewed mobile websites and mobile apps, to better understand how companies were balancing global and mobile strategies.
Out of the websites reviewed, here are the top 25 overall: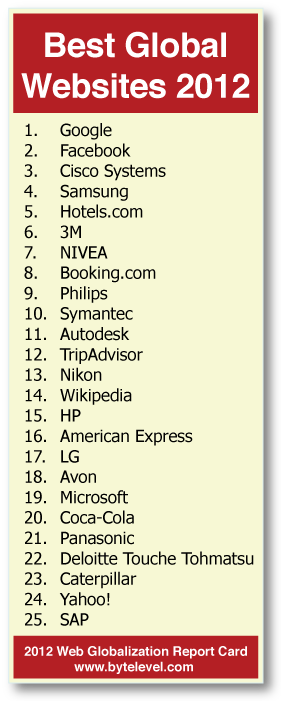 Last year, Facebook emerged (barely) as number one. This year, Google reclaims the top spot. Although Google continues to struggle to harmonize its global navigation across its many applications, the company also continues to invest in globalization. Google now supports more than 140 languages on its search engine and its new Google+ app supports an impressive 40 languages. Facebook's mobile app, by comparison, supports just 13 languages. Though Facebook continues to improve its global navigation, its language growth stalled in 2011.
As a group, the top 10 websites support an average of more than 50 languages. They also demonstrate a high degree of global design consistency across most, if not all, localized websites. This degree of consistency allows them to focus their energies on content and mobile localization. Two new companies on this list – Hotels.com and Booking.com – exhibit an impressive commitment to mobile devices. Any company that is developing a global mobile strategy should study these two companies.
Why didn't Apple make the top 10?
I'm anticipating I will get asked this as I was asked the same thing last year. After all, how can a company with nearly $100 billion in the bank not be in the top 10? It seems that Apple has been rather tightfisted with its translation spending; the company supports far fewer languages on its website than on its mobile operating system iOS. Does it make sense for an iPad and iPhone to support Arabic and Hebrew and for Apple's website not to support these languages?
Language parity between mobile and PC is a key component of the 2012 Report Card and Apple did not fare well in this regard.
It's worth noting that of the websites reviewed, roughly half now support Arabic and/or Hebrew.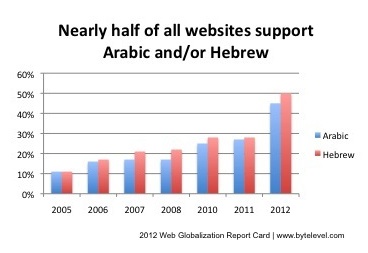 In the Report Card, languages account for 25% of a web site's score. We also evaluate a web site's depth and breadth of local content, support for local-language social networks, the effectiveness of the global gateway, and global consistency across PC and mobile platforms. Beginning in 2010, we began tracking how companies promote local social platforms such as Facebook and Twitter around the world. In 2010, only a handful of companies supported a Twitter or Facebook page outside of English. Today, more than half of all companies reviewed support a social network outside of English.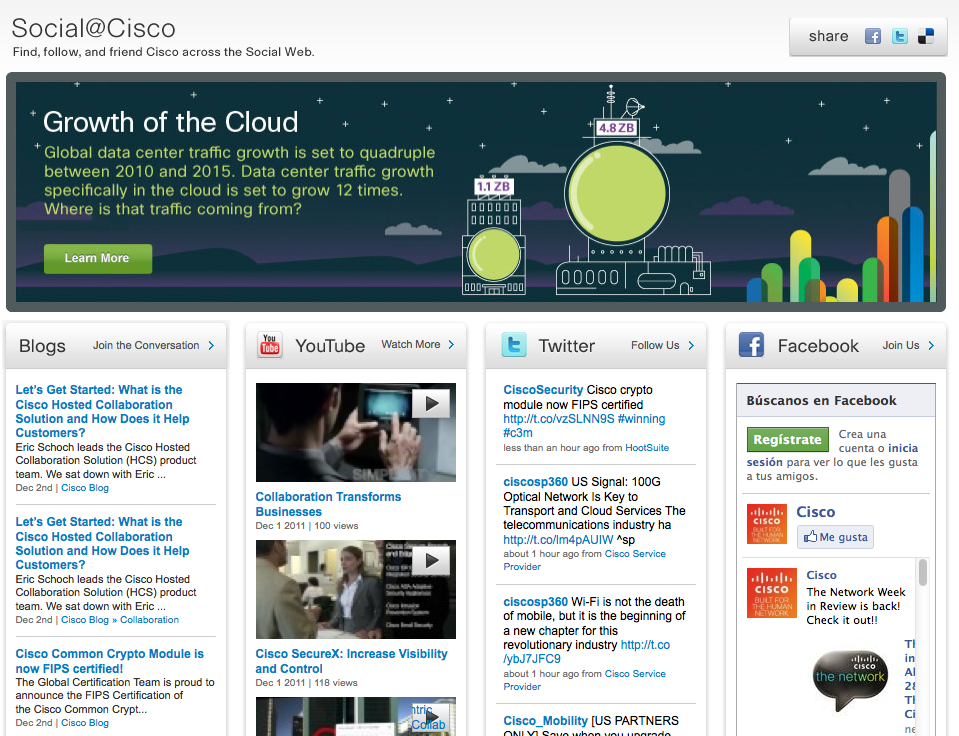 Cisco Systems is worth studying for its Social@Cisco pages. This social aggregation page was first launched in 2010. It is now available in more than 30 markets, with local feeds incorporated.
Hard for me to believe, but this is the eighth edition of the Report Card. It's the largest report ever, with 40 website profiles and a special section on "taking mobile global." I'll have lots more to say in the weeks ahead.
To learn more, check out the 2012 Web Globalization Report Card.