I checked domain registration stats from Russia's registry and here are the high-level numbers: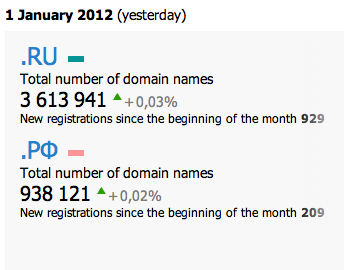 If you combine IDNs and ccTLDs, Russia becomes the third-ranked country in terms of country code registrations, behind Germany and the UK.
But what caught my eye is that, according to the registry, only 44% of the population has Internet access (52 million people).
Russia has a great deal of Internet growth ahead of it still. I expect to see a number of newly localized Russian websites as I continue work on the 2012 Web Globalization Report Card this month.