JavaScript enables everything from simple online sign-up forms to complex web-based applications.
But there is not much information out there on how to effectively internationalize and localize JavaScript code.
Which is why I'm pleased to announce that Byte Level Books is publishing Going Global with JavaScript and Globalize.js.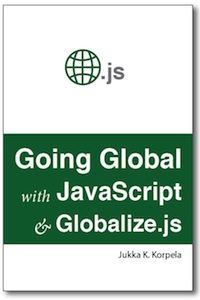 The book is authored by globalization expert Jukka Korpela, who wrote my favorite book on Unicode: Unicode Explained.
Readers of this book will learn:
How to ensure an application is "world ready" — removing unnecessary language and culture dependencies
How to adapt a JavaScript app to local conventions, such as date formats, systems of measurement, time zones, and more
How to leverage the Common Locale Data Repository (CLDR) to support global applications
How to localize the user interface to address different cultural requirements and expectations
How to handle text input that falls well outside traditional "A-Z" characters
I'll have more to share on the book as we get closer to publication. If you'd like to be notified when the book is published, be sure to sign up for the Global by Design newsletter or the Byte Level Books Twitter feed.